"We have not yet seen, regarding investment intentions, any weakening of those of late, but obviously it's something we watch pretty closely," Deputy governor Ben Broadbent said to BBC, commenting on how the referendum that could be held as early as June 2016 was affecting the economy. 
A latest YouGov poll has revealed that the Leave EU campaign has achieved a record 9 point lead as the terms of Prime Minister David Cameron's draft reform deal with the EU fell short of public expectations. The poll shows that 45% of respondents now want to leave the EU while only 36% want to stay. Nineteen percent are still undecided.
Meanwhile, two major US investment banks have again weighed in on the EU debate.
JPMorgan Chase has pointed out that the YouGov poll was conducted at a time when "media write-ups of the draft deal were scathing". And Goldman Sachs has warned that sterling could fall 15-20% if Britain votes to leave the EU. Such an outcome would alarm foreign investors and put them off injecting capital into Britain, placing pressure on the current account deficit, the bankers said.
US banks are no strangers to speaking out on in favor of British EU membership, and are said to have contributed "six-figure" sums of money to support the 'In' campaign.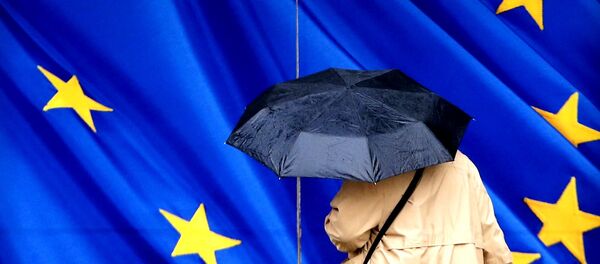 2 February 2016, 15:40 GMT
Goldman Sachs and JPMorgan who employ thousands of staff at their European headquarters in London benefit from EU "passporting" rules that allow them to do business across the 28-member bloc, which has a single market of about 500 million people. The same applies to other US corporations with presence in the UK.
Goldman's support for the UK's membership of the EU is long-standing. In 2013, the co-chief executives of Goldman Sachs International wrote in The Times that Brexit would be contrary to Britain's national interest.
"Large international and European companies see a Britain divorced from the EU as a much less attractive place. Threats to British involvement in the EU are threats to British business."
Their sentiments were echoed by Morgan Stanley president Colm Kelleher, who told the Financial Times banking summit last November that "were Great Britain to leave the EU, you would see significant backlash against London as a global financial center".
At least for now such scare mongering by US banks has been dismissed by the Bank of England. However, Ben Broadbent appears to have spoken in favor of staying in the EU:
"It was only in the latter part of 2012, once confidence about the Eurozone had begun to come back, that the UK economy really got going."
US banks have apparently been lobbying the British government to lend more support to the 'In' campaign. JPMorgan Chase economist Allan Monks is quoted by the press as having said that "backing to remain from leading politicians and businesses could help to make up the minds of those currently undecided".