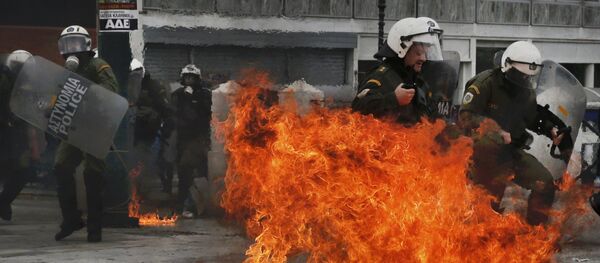 4 February 2016, 13:41 GMT
BRUSSELS (Sputnik) — Greek police officers held a rally outside the prime minister's residence in protest over government pension reforms, local media reported Friday.
A group of police officers made their opposition to the reforms known to Greek Prime Minister Alexis Tsipras, gathering outside the Maximos Mansion residence ahead of a large public service workers' rally expected to be held on Friday afternoon, the Kathimerini newspaper reported.
The protest was held in opposition to the Syriza government's controversial pension reform plans, demanded by Greece's international lenders. On Thursday, a one-day general strike was held across Greece in protest at the reforms.
Pension reforms remain a point of disagreement between the Greek government and its eurozone lenders and the International Monetary Fund (IMF). The Syriza government's plan to raise employer contributions and the creditor demands to cut the pension deficit remain unresolved.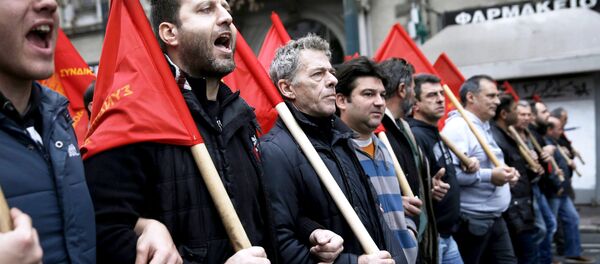 4 February 2016, 13:09 GMT
The Tsipras government has been carrying out economic reforms since August, when European finance ministers and the IMF approved an 86-billion-euro ($93 billion) bailout package aimed at rebuilding Greece's economy. Under the deal, the international lenders secured the Greek government's agreement to reform labor markets, privatize state assets and recapitalize banks.
The Greek budget deficit had reached 3.533 billion euros ($3.869 billion) by the end of 2015, according to Friday's preliminary assessment by the Greek Finance Ministry. Greece's budget deficit was 3.697 billion euros in 2014. In 2016, it is projected to drop to 2.573 billion euros.