Julian Assange's status was ruled as arbitrary detention in violation of international law because it was ruled part of his previous jailing and house arrest, Roland Adjovi, Vice-Chair of the UN Working Group on Arbitrary Detention, told Radio Sputnik.
"There were three stages in the reasoning of the working group. First, the working group had to decide whether this was a situation of detention, and the working group looked at the overall process, from the time he was detained in the UK for 10 days in a British prison to the time he was under house arrest all day. And the working group considered that this third time, when he was in the embassy voluntarily, was a continuation of these first two stages," Adjovi told Sputnik.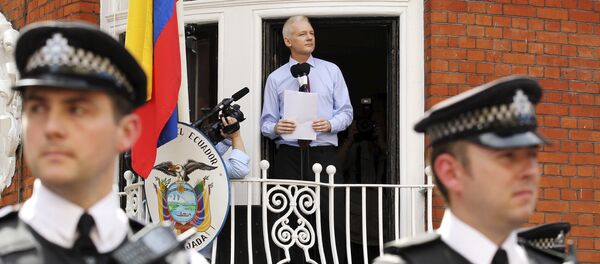 5 February 2016, 16:00 GMT
Looking at the conditions of Assange's detention, the working group looked at his treatment in all three stages, and why the detention went on for so long.
"The group had two elements. First, for the ten days he was in the British prison, he was in isolation against international standards. Then the working group considered these five years of investigation, without any formal charge, without any indictment being issued against Julian Assange was a violation of due process," Adjovi added.
Based on those two parts of the judgement, the conditions and the due process, the UN working group judged the detention to be arbitrary and in violation of international treaties on human rights, which the UK and Sweden signed on to.
Adjovi said that he could not comment on UK Prime Minister David Cameron's statement that Assange would be arrested if he tries to leave. He instead pointed to a dispute resolution process for the issue.
He added that the political dimension of Assange's detention was not considered by the working group while carrying out its judgment.