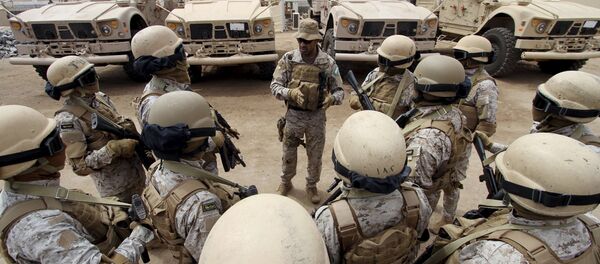 5 February 2016, 02:15 GMT
WASHINGTON (Sputnik)
–
On Thursday, the Saudi embassy in Washington said in a Twitter message that the Saudi Ministry of Defense stood ready to deploy ground troops to Syria to aid in the US-led international
anti-Daesh
coalition efforts.
"That kind of news is very welcome.  I look forward to discussing that with the Saudi defense minister [Mohammad bin Salman] next week — that and other kinds of contributions that Saudi Arabia can make," Carter said, as quoted in a press statement.
According to Carter, the coalition's representatives are due to discuss the issue in Brussels next week.
"So the reason why I'm going to Brussels next week is to bring the full weight of the coalition behind accelerating the defeat of Daesh," the defense secretary added.
Riyadh has been a nominal member of the US-led coalition that has been launching airstrikes against Daesh in Syria since September 2014, without the permission of Damascus or the United Nations. In December 2015, Saudi Arabia started its own Muslim 34-nation coalition to fight Islamic extremism.
Daesh is a Sunni group, outlawed in a number of countries, including the United States and Russia.