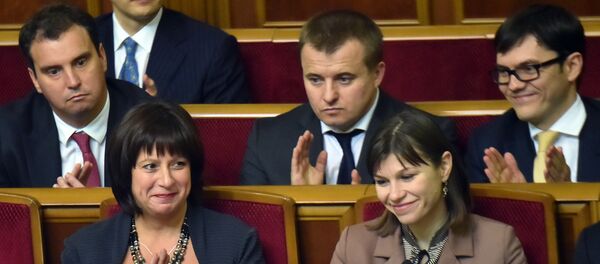 4 February 2016, 12:48 GMT
The departure of Ukraine's Minister of Economic Development and Trade Aivaras Abromavicius, frustrated with the corruption of President Petro Poroshenko's circle, is a sign of the country's political crisis that has shocked Western observers,
Die Welt reported on Thursday
.
The Lithuanian, a former investment banker, had been given Ukrainian citizenship and membership of Petro Poroshenko's Bloc party in order to take up the post in Ukraine's government in December 2014. 
However, on Wednesday Abromavicius told reporters he was resigning from the government after having his path to reform repeatedly blocked by allies of the president.
"It has become clear that any kind of systematic reform is decisively blocked. It is more than the mere lack of support or political will. These are concrete actions aiming to paralyze our reform efforts."
"Neither me, nor my team, have any desire to serve as a cover-up for covert corruption, or become puppets for those who, very much like the 'old government', are trying to exercise control over the flow of public funds. I am not willing to travel to Davos and talk about our successes to international investors and partners, all the while knowing that certain individuals are scheming to pursue their own interests behind my back," the minister added.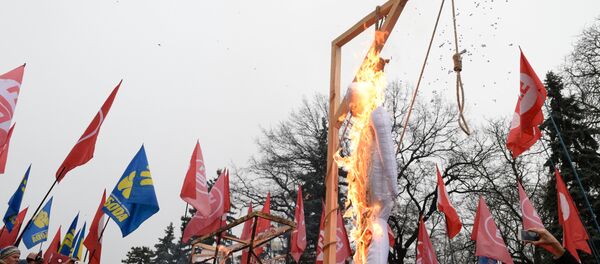 5 February 2016, 08:33 GMT
He named Ihor Kononenko, the first deputy chairman of the Petro Poroshenko Bloc party, as a major block to reform, and claimed that Kononenko repeatedly interfered in the administration of large state-owned chemicals transport company 'Ukrkhimtransamiak.'
The final straw for Abromavicius was when he was ordered by the Presidential Administration of Ukraine to accede to Kononenko's request to employ two of his associates in his ministry.
"I do not want to be a part of this plunder," said Abromavicius, as cited by German newspaper Die Welt in response to being given the order, and resigned from his position.
​'Important reformer gets even with Poroshenko's state,' Die Welt reported.
"This explanation from the economic minister caused a remarkable reaction from the embassies of several Western countries."
"In a joint statement on Wednesday the German, US, British and six other embassies said they were 'deeply disappointed' about Abromavicius' resignation, who had delivered 'real results from his reforms in Ukraine.'"
"The government of Prime Minister Arseniy Yatsenyuk, about whose resignation there has been speculation for months, could lose even more popularity," Die Welt reported.
"The credibility of the Ukrainian elite is massively damaged. Parliament speaker Volodymyr Groysman spoke of a 'serious political crisis.'"
"The minister's allegations are serious and could have extremely negative consequences for the Ukrainian government. He brought public evidence that reforms are coming only haltingly, and that a part of the new elite which came to power after Maidan, itself stands in the way of reform."
"We learned to overcome the resistance of the old system," Die Welt quoted a disillusioned Abromavicius.
"But it turned out that some of the new people are even worse than the old."