As the number of refugees continues to grow, a large number of private housing firms have sprung up across the European Union (EU). In countries, such as Sweden, Germany, Austria and Britain, government migration agencies rely on private companies for refugee housing, especially as the number of newcomers has dramatically increased over the past year.
In some of these countries, many refugees are housed in "ramshackle conditions" with too many people staying in one room or with not enough beds for everyone, and social activities provided except basic housing and food.
"The issue is the profits. It's not acceptable that the operator makes a huge profit if the quality of his asylum accommodation is terrible," explained Helena Puula Niemonen, the international coordinator at one of the Swedish Church-based social agencies Diocese of Strangnas, as cited by the National Interest.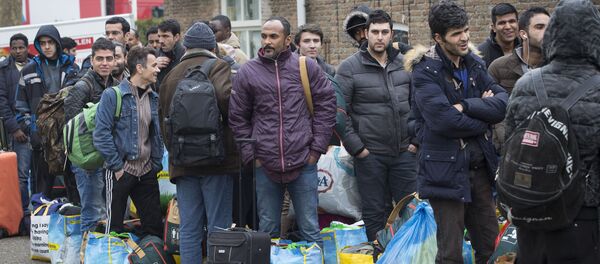 25 January 2016, 23:49 GMT
In Sweden, for example, the Migration Agency gives firms that house refugees 350 kronor ($41) for each asylum-seeker per day. The National Interest cited that per unaccompanied minor the Swedish Migration Agency pays between 2,000 and 7,000 kronor ($235 and $820) per child per day. That's some serious money.
According to the Swedish daily Aftonbladet, the top 30 refugee housing companies in Sweden are making profits above 10 percent, while many as much as 50 percent.
"It's a totally crazy situation, with gold diggers buying up conference centers far out in the countryside and stacking asylum seekers in corridor-style living with no access to activities, no access to infrastructure," former Swedish Employment Minister Sven Otto Littorin said, as cited by the National Interest.
Asylum-seekers used to be housed in the dorm-style residences of the Migration Agency, but starting from the 1990s, the Swedish government started to rely on the private sector for refugee accommodation as more and more refugees began to flock into Sweden. The ongoing refugee crisis, which brought over 150,000 people in 2015 into Sweden alone, forced the government to seek help from private companies, which were eager to help out… for a good amount of money, of course.
The unfolding situation is not only bad for asylum seekers, who are forced to spend months living often in unsuitable conditions, but also for European tax-payers whose money could be spent more wisely, the National Interest said.