When asked if the Gulf state was prepared to send troops to Syria, Foreign Minister Anwar Gargash told reporters in Abu Dhabi that this had been his country's position all along.
"We have been frustrated at the slow pace…. of confronting Daesh. We are not talking about thousands of troops but we are talking about troops on the ground that will lead the way… that will support… and I think our position remains the same and we will have to see how this progresses," he said as quoted by Reuters.
The announcement came less than a week after Saudi Arabia said that if the US-led antiterrorist coalition decided to launch such an operation, Riyadh would follow suit.
"If there was a consensus from the leadership of the coalition, the kingdom is willing to participate in these efforts because we believe that aerial operations are not the ideal solution and there must be a twin mix of aerial and ground operations," Brigadier General Ahmed Asseri told al-Arabiya TV.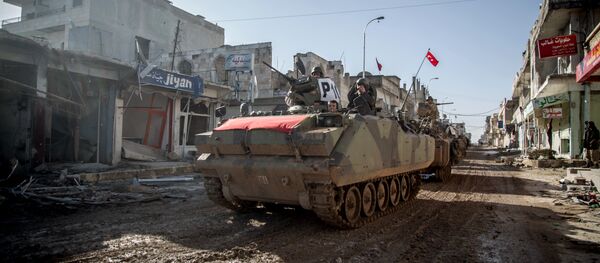 7 February 2016, 11:20 GMT
He added that a decision could be made at a NATO summit in Brussels next week. US Defense Secretary Ashton Carter confirmed that he would discuss the initiative with Saudi representatives at the summit.
Bahrain said on Saturday that it was ready to send ground forces against Daesh militants as part of the US-led coalition.
Bahraini ambassador to Britain Sheikh Fawaz bin Mohammed al-Khalifa said in a statement that the kingdom would commit troops to operate" in concert with Saudis.
Syria's Foreign Minister Walid Muallem warned that any ground operation in Syria, carried out without consent from Damascus, will be viewed as an act of aggression."
"Let no one think they can attack Syria or violate its sovereignty because I assure you any aggressor will return to their country in a wooden coffin," Muallem added during a press conference in Damascus.