MOSCOW (Sputnik) — According to the BBC, Cameron will say that if the United Kingdom were to leave the European Union, the arrangement envisaging British border guards checking identification in France could be scrapped. This, in turn, could lead to establishment of camps, like the infamous "Jungle," in southeastern England, Cameron will say according to the media outlet.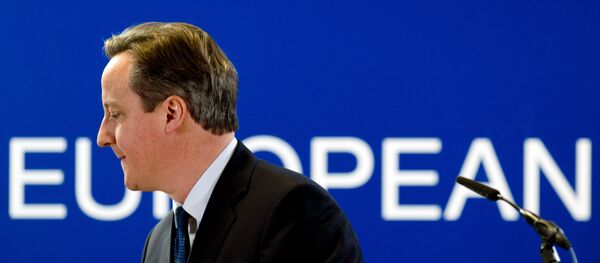 7 February 2016, 16:51 GMT
A spokesman for Vote Leave, a group advocating withdrawal from the 28-nation bloc, accused Cameron of "scaremongering," saying that the 13-year London-Paris agreement on border checks had "nothing to do with our EU membership," according to the BBC.
5 February 2016, 15:10 GMT
Up to 6,000 migrants have been camping out for months on the outskirts of Calais, seeking to cross the Channel Tunnel and apply for asylum in the United Kingdom.
Cameron vowed to hold a referendum on the United Kingdom's membership of the European Union by the end of 2017. Ahead of the vote, Cameron is seeking to revise the terms of UK's membership of the bloc.
The prime minister has outlined four demands to the European Union, including shifting power away from Brussels back to the UK national legislature, exempting Britain from the EU "superstate" principle, denouncing the euro as a single official EU currency, and protecting the UK economy by keeping Eurozone members away from the non-Eurozone countries' affairs.