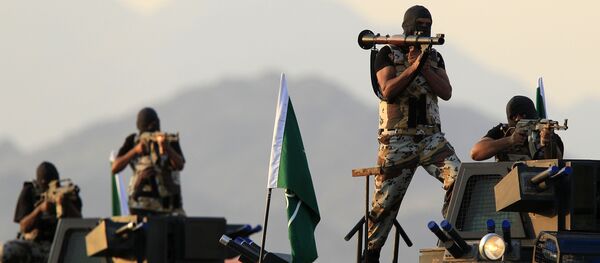 8 February 2016, 10:17 GMT
Last week, Saudi Arabia expressed
readiness
to send its ground forces to Syria to fight Daesh terrorist group.
Saudi Arabia is notorious for its attempts to spread radical Islam and support its adherences all around the world. Although it does not back up Daesh in particular, it may provide assistance to other extremist groups and thus contribute to the deterioration of security in the region, journalist Rainer Sollich wrote for Deutsche Welle.
Moreover, the intervention of Saudi Arabia will be strongly opposed by Iran and Russia, which are actively involved in the fight against terrorism and support Damascus. Iran, among other things, perceives Saudi Arabia as a pure evil, since for a long time Saudi rulers sought to expand radical Sunni beliefs throughout the Middle East, he wrote.
"Given the many forces operating in Syria, sending in Saudi troops would make things even more dangerous — especially because the country is clearly perceived as a warring party by the regime, Russia and Iran," Sollich wrote.
According to the author, Saudi Arabia "appears to be leaning dangerously toward military adventurism". The country no longer makes attempts to prove itself as a reliable ally of Western countries which is interested in a political resolution of the conflict and rather sticks to a military option.
"The traditionally good relations between European nations and Saudi Arabia are being tested by more than human rights issues this time around," Sollich wrote, stressing that the intervention of the Saudi forces may cause greater chaos and significantly worsen the situation in the region.