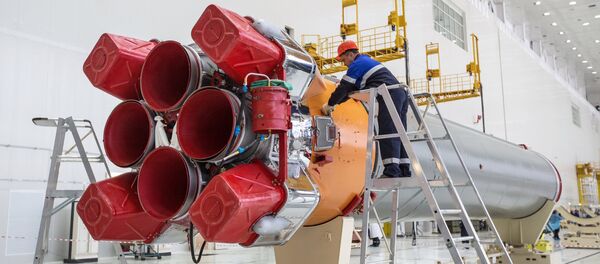 21 January 2016, 14:13 GMT
WASHINGTON (Sputnik) — The Ukrainian Space Agency potentially lost about 80 percent of its revenue in 2014 after contracts cancellation by Russia, the International Monetary Fund (IMF) said in a report on Monday.
"Additional losses [of state companies] could stem from… contract cancellation by Russian clients in the space and military industry (potentially 80 percent of revenue for companies managed by the State Space Agency or UAH [Ukrainian Hryvnia] 2 billion per year)," the report stated.
In June 2015, Ukraine's President Petro Poroshenko halted all military sales to Russia. In February 2015, the Russian government announced the decision to cancel contracts for Ukraine's Zenit rockets used for satellite launches.
The relationship between Kiev and Moscow soured in 2014 following Crimea's reunification with Russia and beginning of a military conflict in Ukraine's eastern regions of Donetsk and Lugansk.