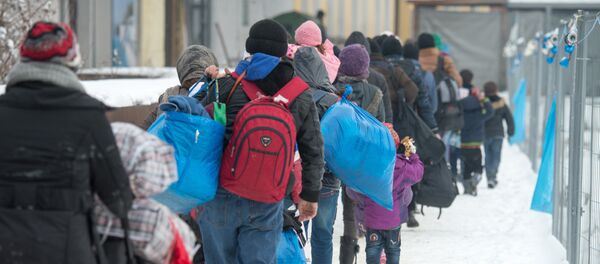 24 January 2016, 05:34 GMT
Germany and Turkey will seek NATO's mobilization in the fight against illegal trafficking on the Aegean coast,
the newspaper wrote
.
At the meeting of NATO defense ministers this week, they are planning to discuss "the extent to which NATO can be helpful in monitoring the situation at the sea and support the work of Frontex and the Turkish Coast Guard," Chancellor Angela Merkel said on Monday after consultations with her Turkish colleague Ahmet Davutoglu in Ankara.
Merkel also announced plans to carry out joint operations of German and Turkish police against "illegal border crossing" in Turkey. The operations will among others be aimed at examining how the work of the Turkish Coast Guard and the EU border agency Frontex can be better coordinated.
According to the newspaper, the real purpose of the new initiative and NATO's stronger presence in the region, however, remains unclear.
The newspaper noted that Merkel has lately criticized Russia's operation in northern Syria and blamed it for the emergence of a new wave of refugees. German Chancellor condemned the attacks of the Russian Air Force and the Syrian army near the city of Aleppo in unusually sharp words:
"In recent days, we are not only alarmed, but also appalled at the human suffering for tens of thousands of people caused by bombings, primarily from the Russian side," Merkel stated on Monday in Ankara after meeting with Turkish Prime Minister Ahmet Davutoglu.
Since the Syrian air campaign began last September, Russia has carried out thousands of sorties against terrorist targets, crippling Daesh's infrastructure and eliminating numerous terrorists. Some Western media outlets have criticized Russia's operations in Syria, claiming that the Russian Air Force strikes have resulted in the death of hundreds of peaceful civilians. However, these reports have not been confirmed by any actual evidence.