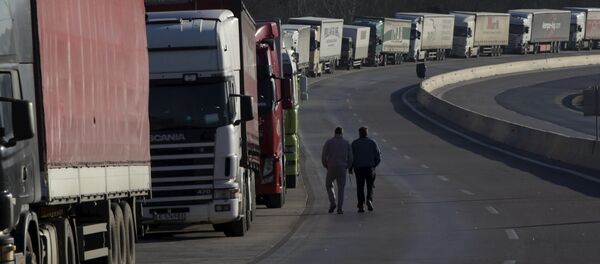 9 February 2016, 12:41 GMT
MOSCOW (Sputnik) — According to the Ekhathimerini newspaper, citing the PEA data, daily losses may reach $72 million if the farmers, who are protesting against social security reforms, also block the country's ports and railway network.
Greek exporters are concerned that due to the ongoing blockades, drivers, who transport some 43 percent of the country's exports by road, have to use longer routes or waste time while waiting for the protesting farmers to let them through.
Since mid-January, several key highways, checkpoints and customs points on Greek's borders have been blocked by farmers protesting against pension cuts and other austerity measures which Athens agreed with its international lenders in mid-2015 in exchange for a third bailout package. Some blockades are in place for 12 hours a day.