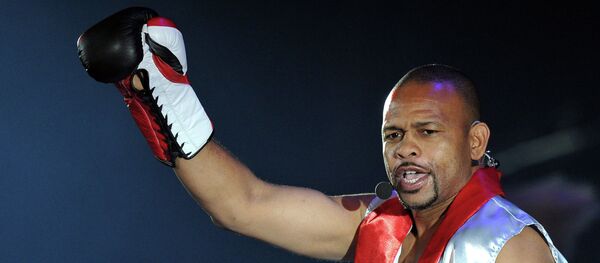 12 December 2015, 10:48 GMT
MOSCOW (Sputnik) — Jones, 46, received Russian citizenship in 2015.
"No fights, we really don't want him fighting. I think it would be logical to say [that Jones has ended his boxing career]," Dmitry Luchnikov told R-Sport by telephone.
Luchnikov said Jones would expand his musical talent in Russia and is planning a tour. The promoter did not specify which type of music or in which capacity Jones would launch his musical career. 
The silver medalist in the 1988 Seoul Olympic Games and an absolute world champion in the middleweight division was granted Russian citizenship on September 12 last year by an order of President Vladimir Putin. As of now, he holds dual US-Russian citizenship.
In December, Jones opened his first boxing school in the Moscow Region to promote sports in Russia.
Ukraine banned the boxer from entering the country following his visit to Crimea and application for Russian citizenship for "creating a threat to national security."