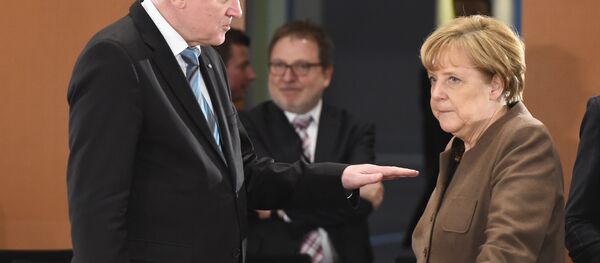 5 February 2016, 12:38 GMT
MOSCOW (Sputnik) — German Chancellor Angela Merkel's migration policy reflects a so-called rule of injustice and does not lead to the solution of the refugee crisis, Bavaria's Prime Minister Horst Seehofer said Wednesday.
"We don't currently have a state of law and order. It is a rule of injustice," Seehofer was quoted as saying by The Guardian newspaper.
A so-called rule of injustice is a phrase characterizing dictatorship or oppressive regimes in Germany during the Cold War period.
Seehofer has been firmly opposed to Merkel's migration policy. Earlier this month, he said that Germany could cope with no more than 200,000 arrivals a year.
Germany has been one of the main destinations for thousands of refugees and immigrants coming to Europe since the start of 2015. Bavaria, the key gateway to Germany for those arriving in southern Europe, saw the average of 4,000 new arrivals per day in December.