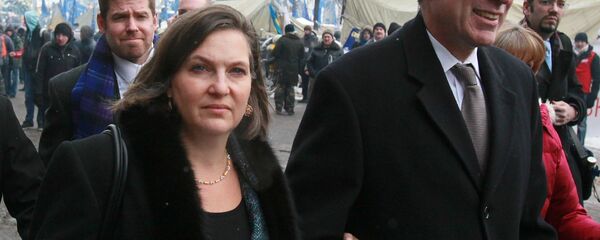 20 October 2015, 15:55 GMT
WASHINGTON (Sputnik) — US Assistant Secretary of State Victoria Nuland will travel to Poland, Germany and Albania on February 10-14, where she will hold series of bilateral meetings and attend a security conference, US Department of State said in a press release.
"On February 10, Assistant Secretary of State for European and Eurasian Affairs Victoria Nuland will travel to Warsaw, Poland," the press release stated on Wednesday.
During the visit, Nuland will discuss bilateral and regional issues with senior government officials, leaders of political parties and members of civil society, according to the State Department.
On February 12-13, Nuland will participate in the Munich Security Conference in Germany together with US Secretary of State John Kerry.
After the Munich conference, Kerry and Nuland will visit Albania for further discussions with the country's leadership about Tirana's Euro-Atlantic integration.