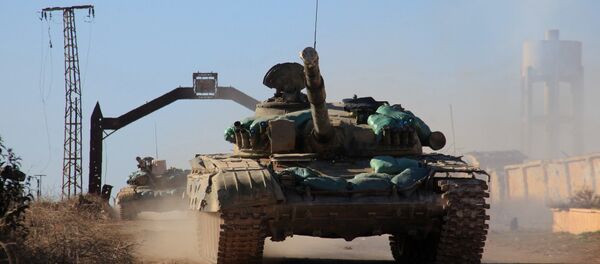 9 February 2016, 08:24 GMT
Another key town has been taken back by
the Syrian Army
and the country's National Defense Forces (NDF) after heavy fighting with militants in
Latakia province in western Syria
, media reports said.
Dozens of terrorists were killed and many more wounded after the Syrian troops finally took full control of the town of Bashoura, located in northern Latakia, sources said. Two days ago, it had been announced by Islamic Front-connected sources that Ahrar al-Sham, a coalition of multiple Islamist and Salafist units, had been targeting Syrian Army positions around the village.
The new offensive came after the Syrian Army and the NDF cleared the militants out of the strategic heights of Ziyaret al-Beidha, Zahra al-Beidar al-Mahrouq and Khandaq al-Shahour in Latakia.
Syrian Arab Army (SAA) soldiers
© Sputnik / Valeriy Melnikov
/
Earlier this week, the Syrian forces managed to win back more villages and heights in northern Latakia near the border with Turkey, sources said, mentioning the villages of Dahret al-Baiday al-Mahrouq and Ard al-Kataf, as well as the hill of Ziyaret al-Beidha. 
In another development, the Syrian Army continued their offensive in the northern province of Aleppo, regaining full control of the strategic town of Taana in the eastern part of the region.
The Syrian Air Force attacked terrorists' positions in the towns of Hayan and Hraytan as the army continued to advance toward Tal Rafat in Aleppo.
Scores of terrorists were killed and injured in the army's mop-up operations in the newly regained towns.
#SYRIA Yesterday the Syrian Arab Army together with volunteer forces liberated #Nubul & Al-Zahraa settlements besieged for over 4 years

— Минобороны России (@mod_russia) 4 февраля 2016
In the countryside east of Aleppo, government troops and the NDF took full control over strategic Barlaheen hilltop, after daylong clashes with terrorists. The army backed by the Air Force also conducted a series of attacks against Daesh militants in other parts of the province, having destroyed scores of terrorists as well as some of their military hardware.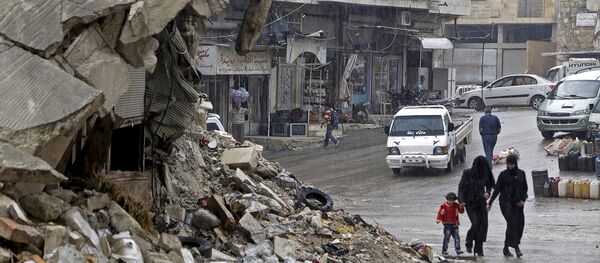 8 February 2016, 11:58 GMT
Adding to the Syrian Army's anti-terror effort is Russia's ongoing air campaign in Syria, which was launched on September 30, when more than fifty Russian warplanes, including Su-24M, Su-25 and Su-34 jets, commenced precision airstrikes on Daesh and Al-Nusra Front targets in Syria at the behest of Syrian President Bashar Assad.
In addition, the Russian Defense Ministry confirmed earlier this month that advanced, super-maneuverable Su-35S multi-role fighters had begun their combat mission in Syria.