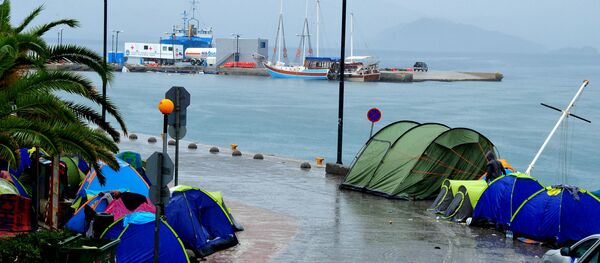 11 February 2016, 13:33 GMT
BRUSSELS (Sputnik) – The first phase of the review was "as satisfying as possible," Moscovici said at a Thursday press conference, as quoted by Bloomberg, adding that it is possible for the review to be concluded before Easter (March 27).
Earlier on Thursday, Finnish Finance Minister Alexander Stubb said that the review of the Greek reform program could be completed "in the coming weeks."
The Greek economy has been severely strained for several years, because of the country's multibillion debt accumulated after the 2008 world economic crisis.
Greece's main lenders, which include the International Monetary Fund (IMF), the European Central Bank (ECB) and euro zone nations, signed an agreement with Athens in the summer of 2015, approving a third bailout package worth about €86 billion ($97 billion at current exchange rate) in exchange for highly unpopular austerity reforms such as pension cuts and tax hikes.
The international creditors need to sign off on a review of the reforms before any further aid can be released to Greece.
Under two previous bailout programs, the last of which expired on June 30, 2015, Greece received about $270 billion from the IMF, the ECB and euro zone countries. The aid also came in exchange for austerity reforms.