The rapport between the neighboring countries, which had developed and improved under the stewardship of former prime minister Donald Tusk, has soured significantly since the rise and the electoral victory of Szydlo's Law and Justice party (PiS) in 2015.
The conservative and nationalistic agenda of PiS almost immediately caused friction between the two countries. The strong economic and political ties that had been built over the past few years are straining as the once-partners are finding themselves increasingly at odds on a number of issues.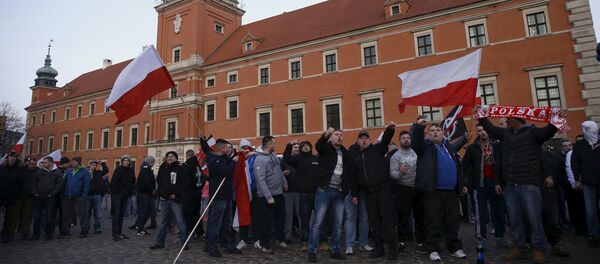 6 February 2016, 18:21 GMT
Chief among them is Poland's reluctance to accept German chancellor Angela Merkel's proposal of a Europe-wide refugee redistribution plan, a measure intended to ease the pressure from countries bearing the brunt of the influx.
Szydlo herself made it widely clear that Poland would not take its refugee quota last November, underlining how the Paris attacks had "changed everything." The country has since been heavily patrolling its German border to prevent any refugee from sneaking in.
Another point of contention is Poland's general mistrust of Russia. As Germany's relationship with Moscow has relatively warmed up over the last months, Poland is trying to drive a wedge between the two countries.
In particularly, Warsaw's new government is sensitive about Nord Stream 2, a pipeline that would directly connect Russia and Germany, bypassing Poland. Szydlo and her party — especially PiS' founder Jaroslaw Kaczynski — interpret the project as the seal of an anti-Polish Russo-German axis.
Beyond that, Poland is calling for the establishment of more NATO bases in central Europe, and for a permanent presence of NATO troops on its territory — presumably a defense against a Russian attack. The plan, however, is opposed by Berlin.
Disagreements over environmental measures and the inflammatory rhetoric from PiS have only amplified the fallout. But will Friday's Merkel-Szydlo meeting change that? Germany hopes pretty so.
"It's the first opportunity for an intensive, comprehensive exchange of views, which the chancellor is looking forward to," Germany's cabinet spokesperson Steffen Seibert told DW.
To be sure, it took Szydlo over 100 days to accept Berlin's multiple invitations, a move that could have miffed Germany already.
And it does not look like Szydlo is going to adopt a soothing approach either. In an interview with German tabloid Bild Thursday, she said that Berlin's refugee policy has been a mistake, and that it would end up weakening Germany itself.
"The weakening of Germany makes Europe unstable. But we have to admit that mistakes were made," she said.
While Szydlo pointed out that Poland-German relations were "excellent", she did have a dig at Berlin's overbearing role in Europe. In fact, much of Warsaw's criticism of Berlin stems from Poland's own leadership ambitions within the EU.  
"Germany is for us an important and close partner in Europe. However, we would appreciate it if some decisions were not made over our heads," Szydlo said.