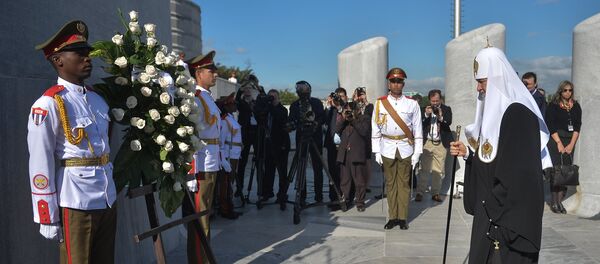 12 February 2016, 18:37 GMT
HAVANA (Sputnik) — Cuban President Raul Castro has met Pope Francis at the airport to welcome him to the country.
The historic meeting is scheduled for 2.15 p.m. local time (7:15 p.m. GMT) at Havana's Jose Marti International Airport. The meeting marks the first time a Catholic pope and an Orthodox patriarch meet since Christianity split into western and eastern branches in 1054.
The meeting between the two religious leaders will focus on the persecution of Christians in the Middle East, but they will also address other pressing issues such as the failing birth rate, same sex marriage, euthanasia and the situation in Ukraine. Pope Francis and Patriarch Kirill are expected to sign a joint declaration.
The Cuban government stated earlier it was honoured to host the meeting, and added it would "provide every accommodation" to ensure the success of the talks, according to radio Vatican.
After the discussions with Patriarch Kirill, the Pope will depart for Mexico.