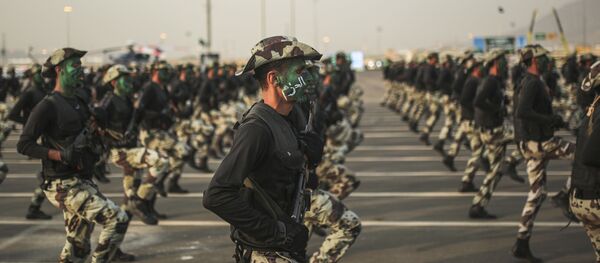 11 February 2016, 21:36 GMT
MUNICH (Sputnik)
–
There was no discussion of Saudi Arabia's possible ground operations in Syria during the International Syrian Support Group (ISSG) meeting in Munich, Russian Foreign Minister Sergei Lavrov said Friday.
"There was no talk of this, so I cannot tell you anything of who was planning to send whom where," Lavrov told journalists on the sidelines of the Munich Security Conference in Germany.
Saudi Arabia's Defense Ministry announced last week that Riyadh was ready to put boots on the ground in Syria to fight the Islamic State (IS) militant group, which has been outlawed by many countries, including Russia.
US State Department spokesman Mark Toner said in a press briefing on Thursday that Washington was in talks with Riyadh on how those ground forces would be deployed on the ground.
Russian and US foreign policy chiefs met in Munich on Thursday as part of a 17-member ISSG. The meeting resulted in a declaration of a plan to end hostilities in Syria starting next week.
Moscow is hoping that the realization of agreements reached during the International Syrian Support Group session will soon go into effect, Sergei Lavrov said.
"We hope that the agreements reached will be reorganized into practical steps," Lavrov said ahead of a meeting with his Saudi colleague, Foreign Minister Adel Jubeir, on the sidelines of the Munich Security conference.
The meeting of the ISSG group – made up of Russia, the United States and a dozen of other world powers – was held in Munich late Thursday and ended in a statement that vowed to pursue the "cessation of hostilities" in Syria within one week.
The group also agreed to deliver humanitarian aid to besieged areas this week and reaffirmed the importance of resuming suspended peace negotiations under UN auspices as soon as possible.
World powers have pledged to do all they can to facilitate progress in these talks, including the reaching of a deal within six months on a Syrian political transition plan to create an inclusive government and draft a new constitution followed by free elections within 18 months.