MOSCOW (Sputnik) — Saudi Arabia should be careful when conducting drills near the Iraqi border, as it will become a "graveyard" for those who try to approach it, Ahmed Assadi, the spokesman for Iraq's formation of Shiite militia groups, said Saturday.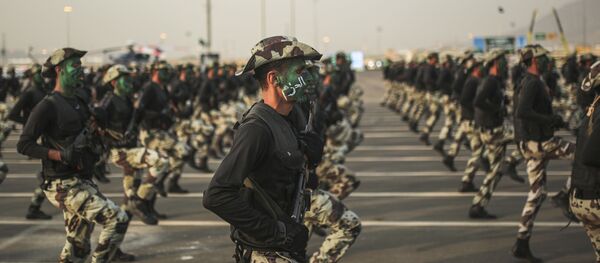 11 February 2016, 21:36 GMT
Media reports emerged earlier this week, suggesting that the Sunni kingdom was about to start
large-scale military exercises
 — the so-called Northern Thunder — in the north of the country, with the participation of ground and air forces from Egypt, Sudan, Jordan and other Arab and Islamic countries that are a part of a Saudi-led anti-terror coalition.
"We want to clearly tell them…on behalf of all the resistance fighters in Iraq, all the soldiers, that the country's border will be a graveyard for anyone who tries to approach it or touches the Iraqi land," Assadi from Popular Mobilization Units said, as quoted by Iraq's television channel Alsumaria.
The Saudi-led Islamic Military Alliance was formed in December 2015 amid the spread of Islamic State (ISIL or Daesh) militants, outlawed in a number of states including Russia, in Iraq and Syria.
The coalition has over 30 members, including Egypt, Qatar, the United Arab Emirates, Jordan, Turkey, Libya, Yemen, Malaysia, and Pakistan.