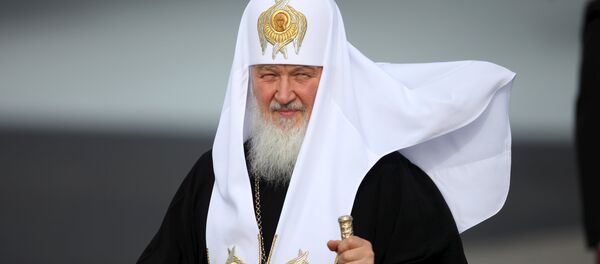 13 February 2016, 21:29 GMT
During their historic meeting at Havana international airport the two Christian hierarchs signed a joint declaration, which many hope will open a new chapter in relations between the Russian Orthodox and Roman Catholic Churches.
"It was with much optimism that we followed the meeting between Patriarch Kirill and Pope Francis… and we are hopeful that this meeting will lead to way to close interaction and eventual reunification of all Christians," Rodrigue Khoury, the leader of al-Mashriq  — Lebanon's first and only Orthodox Christian party — told Ria Novosti.
He said that the mention in the joint declaration of the problems Middle Eastern Christians are facing today was of paramount importance to both Orthodox and Catholic Christians living in the region.
"In the East we not only live side by side but we also share the trials and tribulations befalling us all. They are killing us for the crosses we carry; they are forcing us to abandon our homes because we pray. They are persecuting us because we are Christians, not because we are Orthodox or Catholic," Rodrigue Khouri emphasized.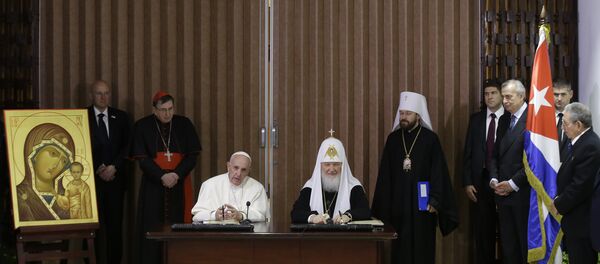 13 February 2016, 16:41 GMT
He also said that Orthodox Christians living in the Middle East trusted the Russian Orthodox Church and its good intentions, just like they did the good intentions of Roman Catholic Church and its leader.
Dr. Daniel Philpott, a professor of political science and peace studies at the University of Notre Dame, a US-based Catholic research institution, shared his impressions of the historic meeting in an interview with Radio Sputnik.
"I was impressed by the deeply substantive nature of the joint declaration and how they achieved unity and found common ground on issues like religious freedom, persecution of Christians and the whole host of other matters the two Churches have in common. I think this is something to be celebrated," Dr. Philpott said.
The declaration signed in Havana addresses one of the more specific issues that have long divided the two Churches, namely  the church in Ukraine, which some centuries ago re-affiliated itself with the Pope, rather than with the Orthodox Church in Moscow.
"The document attains some very reconciling language on that very issue," Daniel Philpott noted.