The Syrian army supported by the Russian Air Force will gain a victory in the civil war, while the split among the anti-government forces will only intensify, the newspaper reported, citing sources in the German security services.
"Russia's involvement is an irreversible turning point in favor of Damascus," the article said.
According to FAZ, the government army will sooner or later gain an upper hand in the fighting in Aleppo province which borders Turkey. German secret services consider a military intervention by Saudi Arabia or Turkey on the side of anti-government forces unlikely.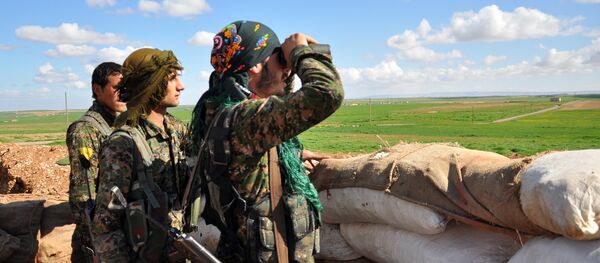 14 February 2016, 13:22 GMT
The Syrian Army managed to achieve significant success in the fight against terrorists, destroying several key supply routes of terrorists in an area of Aleppo province.
In particular, the Syrian Army and the National Defense Forces (NDF) have managed to cut off several main supply lines of al-Nusra Front militants in the town of Mayer located between the city of Aleppo and the country's border with Turkey.
According to sources, military operations are still under way on the eastern outskirts of Aleppo near Kuweires Airport, where the army is tasked with clearing the area of militants.
FAZ noted that after the Syrian troops backed by Russian forces regain full control over the western regions of Syria, the anti-terrorist operation can be continued in the eastern regions of the country.