"It is an indication of the direction of coming operations towards Raqqa. In general, the Raqqa front is open <…> starting in the direction of the Tabqa area," Fars news agency quoted the unnamed source as saying.
Tabqa is the territory where a Syrian air base captured by Daesh forces in 2014 is located.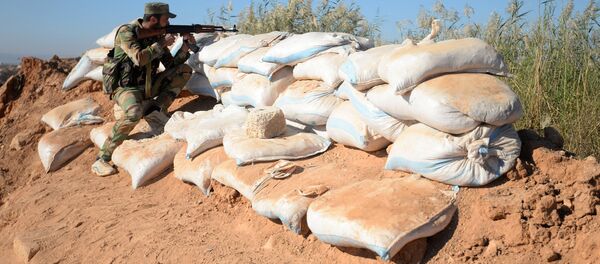 10 February 2016, 18:46 GMT
Meanwhile, the Syrian army and popular units continued to advance on the terrorists' positions in the northeastern part of Hama province securing a long chunk of Salamiyah-Raqqa highway.
They also managed to push the terrorists away from the key town of Ithriyah, which is the government's only supply route to Aleppo province along the Khanasser-Ithriyah Road.
Currently, the Syrian Armed Forces are approximately 35 km away from the Tabqa military airport — their primary objective in Raqqa at the moment.
On Friday Syrian pro-government forces gained full control over Tal Madakhah after a fierce firefight with the terrorists positioned on this small hilltop near Ithriyah.
Following the capture of Tal Madakhah the government forces continued their offensive along the Raqqa-Salamiyah Highway.