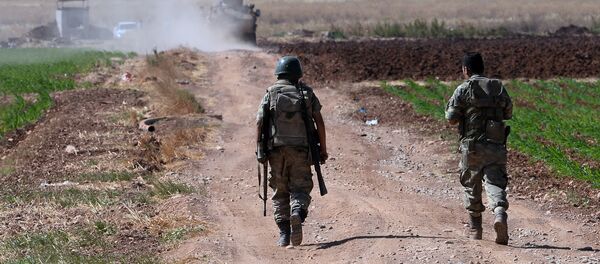 14 February 2016, 11:42 GMT
LATAKIA (Sputnik) – On Saturday, Turkish forces began
shelling
the positions of Kurdish People's Protection Units (YPG) in Syria's Aleppo region.
Turkish forces bombed a village and an airbase that were recently captured by Kurds, Al Mayadeen TV reported Saturday. Prior to being captured by the YPG, the village and the airbase belonged to al-Nusra Front terrorist organization.
On Saturday, Turkish Prime Minister Ahmet Davutoglu claimed Turkish forces shelled Kurds' positions in northern Syria as a retaliatory measure within rules of engagement. Syria's Foreign Ministry branded the shelling as direct support of the terrorists on Sunday.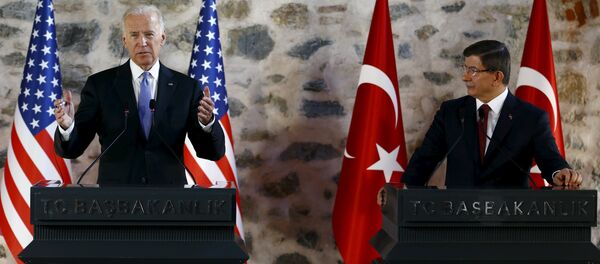 14 February 2016, 13:11 GMT
According to Al Mayadeen television channel, Ankara attacked the towns of Marimin and Anab near the Afrin district of the Aleppo province. There has not been any information regarding casualties.
NTV channel reported citing a military source earlier in the day that Turkish forces had continued to shell YPG positions in Syria killing two Kurdish fighters.
US Vice President Joe Biden in a conversation with Davutoglu called for cessation of Turkish artillery strikes in northern Syria.
Ankara claims that Syrian Kurds have links to the Kurdistan Workers' Party (PKK), a militant group fighting for Kurdish independence from Turkey.