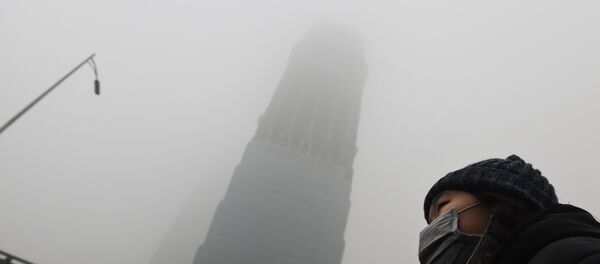 22 December 2015, 11:48 GMT
Two weeks ago De Watts made into the front pages of major
newspapers
when it was reported that the British man began selling bottled fresh air from Britain to China for the price of £80 (around $115) a bottle.
De Watts's product isn't just air, but according to the entrepreneur it's a luxury good — a pure exclusive air from county sides of Britain.
The main secret of De Watt's success is a great story behind every bottle of fresh air.
"Any luxury brand needs to have some story behind it," De Watt's told Radio Sputnik.
De Watt's found an extravagant way to market his product by showing the entire process of his air business from capturing the air into bottles and shipping it to his customers in China. This way, people can see exactly from where the products come from and for what they're paying a hefty price.
"With other companies, artists and students, who bottled air before, there was never any evidence to show from where they actually bottled it from, so I thought the best thing to do is to show the whole process," the man shared his secret with Radio Sputnik.
De Watts and his friends go around various places around Britain, including Dorset, Somerset, Wales, Wilshire and Yorkshire, where there is clean air and make sure to show how they gather the product and put it into bottles.
The air entrepreneur currently lives in Hong Kong from where he runs his own company called Aethaer, which he proudly calls as the "Louis Vuitton or Gucci" of fresh air.