KIEV (Sputnik) — MSF said the hospital in the northwestern Syrian city of Maarat al-Numaan, in the Idlib province, was hit by four rockets earlier on Monday. It did not say which of the warring parties was suspected to be behind the attack.
Davutoglu, who is in Kiev in a show of support for the Ukrainian government, claimed at a press conference that the hospital had been struck by a ballistic missile launched by a Russian warship deployed in the Caspian Sea.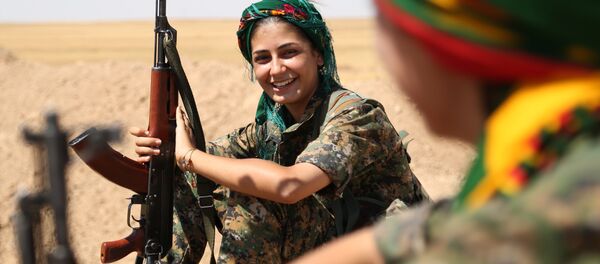 1 February 2016, 07:25 GMT
The airstrikes on the 30-bed health facility left around 40,000 people in the active conflict zone without medical services, MSF said. At least eight staff of 54 people who worked there are missing.
MSF said the airstrikes came within a few minutes of each other, in what it said appeared to be a deliberate attack.
The Russian Defense Ministry has repeatedly said that allegations of civilian casualties in Russia's strikes are aimed to distract the international community form the four-year-long Syrian civil war. Moscow reiterated that all information regarding targets is always checked and double-checked before delivering strikes.
Moscow urged not to trust distorted media reports and "not become a victim of perverse information".
"I emphasize that the strikes by our air group in Syria on terrorist targets are carried out only after data [on terrorist targets] is verified through several channels. Strikes are not carried out in case of risk for lives of civilians," spokesman Maj. Gen. Igor Konashenkov said.