This would make it impossible for local councils and student unions to abstain from purchasing services or goods by companies selling tobacco or weapons, or based in the Israeli settlements in the occupied West Bank.
Cabinet figures described the ban as a device to put an end to practices that "undermined good community relations, poisoned and polarized debate and fueled anti-Semitism," according to the Independent. 
"Town hall boycotts" of Israeli companies seem to be the measure's main target, as confirmed by the fact that the law will be officially announced by Cabinet Office minister Matt Hancock during a visit to Israel later this week.
​
Products manufactured in the Israeli West Bank settlements have been boycotted by Leicester city Council since 2014, and some councils in Scotland adopted a similar policy after the Scottish government publicly discouraged buying any goods from those areas.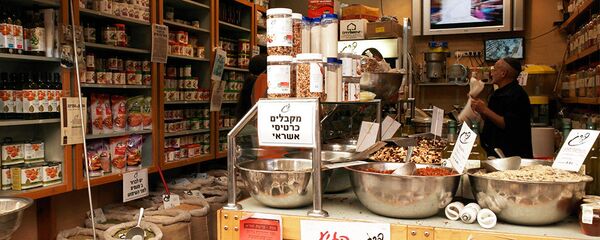 10 November 2015, 17:10 GMT
Two councils in Wales had taken a similar stance until December 2015, when court action from UK group Jewish Human Rights Watch caused them to reverse their decision.
These boycotts would now be prohibited once the law enters into force. The measure could also apply to some university student unions, although how and to what extent is less clear.
Critics see the cabinet's move as a violation of freedom of speech and a limitation of political liberties. A spokesman for Labour party leader Jeremy Corbyn said that, by the same token, the government would have banned council boycotts against apartheid in South Africa.
Tim Hunt, director of Ethical Consumer Association, an organization that in the past has promoted boycotts of Israeli goods on ethical ground, slammed the measure as "an affront to the rights and dignity of Palestinians living in illegally occupied lands."
"The proposed legislation also has the potential to be detrimental on a range of other ethical issues," Tim Hunt told Sputnik.
"The proposed legislation could mean that councils who are brave enough to stand up to tax avoiders, such as Oxford Council, are punished and forced to procure from companies that are avoiding tax."
Palestine Solidarity Campaign's Vice Chair Kamel Hawwash told Sputnik that the new law was "shameful", "wrong" and "a threat to free speech."  
He also challenged the rationale behind the law. "The government's conviction that the boycott would damage community relations, and would damage the Jewish community within the UK seems disingenuous, to say the least," Hawwash said.
"We have groups in Britain such as Jews for Boycotting Israeli Goods and UK Jews for Justice for Palestinians which are in favor of the boycotts… Even within Israel itself, there are more and more people that are coming out against what looks increasingly like an apartheid state," Hawwash added.