The US Federal Bureau of Investigation, after months of procrastination, has finally unveiled the "Don't Be A Puppet: Pull Back the Curtain on Violent Extremism" program aimed at preventing children from being enthralled by dangerous ideologies.
The agency's program was initially conceived after it appeared clear that Daesh, also known as Islamic State, and other terrorists organizations use the Internet as their recruiting ground, specifically targeting young people.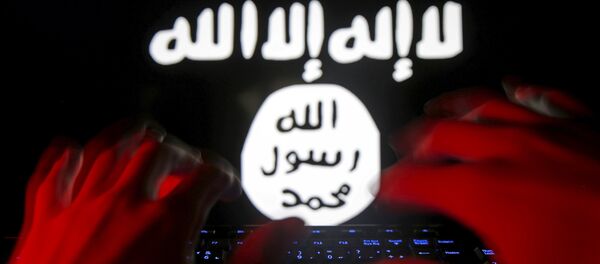 12 February 2016, 00:56 GMT
It seemed only logical that US authorities would attempt to respond in kind and turf out the terrorist group from the web.
"Don't Be a Puppet", the publication of which was delayed after Muslim groups complained that it uniquely targeted Islamist terrorism, is an overall okay-looking website, which tries to teach kids and adolescents about inflammatory propaganda, symbols, zealotry and extremist recruiting techniques.
Interactive maps, bullet point lists and short videos are the main media used on the website.
'The Slippery Slope…'
The game, whose curt description is "Follow the distorted logic of blame that can lead a person into violent extremism" stars a goat as its main character. It is assumed that the goat is actually a scapegoat, in order to drive home the "logic of blame" part.
The actual game can be defined as rudimentary and brutally boring. The pixelated goat starts strolling down a hill, the task being to use the arrow keys to steer it clear from a hail of unidentified, block-like objects.
© Photo : cve.fbi.gov
The Slippery Slope to Violent Extremism video game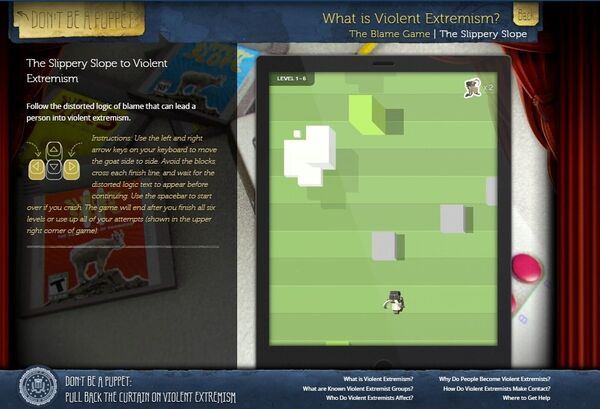 The Slippery Slope to Violent Extremism video game
These objects — and it is a wild guess — could possibly be shrapnels of the titular "distorted logic", since if the goat stumbles on one of them, it is shattered to smithereens.
The prize for completing the (progressively faster: it is a slippery slope) downhill trip is the piecemeal appearance of a series of brief statements, described as "distorted logic texts", in an apparent bid to teach players to recognize extremist rhetoric when they hear it.
"Our group is under attack", "We must defend our traditions" and "Our violent actions will result in a better future" say some  of the featured "distorted logic texts."
It is not exactly clear how this game is intended to prevent Daesh — which has famously taken and uploaded propaganda videos of Hollywood-like quality — from attracting more young recruits.