MOSCOW (Sputnik) — On New Year's Eve, hundreds of women in the German city of Cologne were robbed and sexually assaulted by groups of aggressive men, believed to be mostly of Arab and North African origin. Similar incidents took place in several other cities in Germany and the European Union.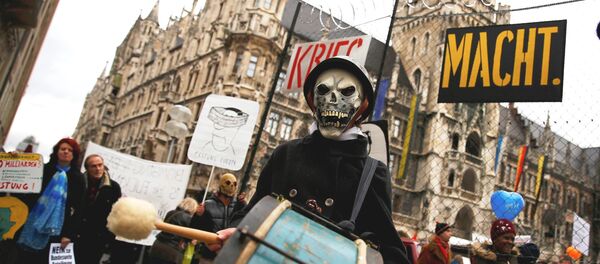 15 February 2016, 12:53 GMT
Answering a question on whether the German government should allow refugees to enter the country, 51 percent of respondents supported the open-door policy of German Chancellor Angela Merkel's government. This represents a seven-percent decline comparing to the results of a similar poll conducted in September-October 2015, when 58 percent of those polled said Germany should continue to welcome refugees.
At the same time, the number of those who oppose Berlin's migration policy increased by six percent — from 35 percent in the fall to 41 percent now.
Germany has become a key destination for hundreds of thousands of refugees and immigrants coming to Europe since the start of 2015. Last year, it registered over a million asylum applications, nearly five times more than the number registered in 2014, according to the German Interior Ministry's estimates.
The survey was conducted on February 3-4, 2016 and involved 1,010 respondents.
The international public opinion project Sputnik.Polls kicked off in January 2015, in partnership with Populus, a founding member of the British Polling Council. The project involves regular surveys in the United States and Europe on high-profile social and political issues.