A recent meeting of EU agricultural ministers was met with protesting farmers, who are demanding agricultural commodity price increases and an improvement of economic ties with Russia, the German newspaper Deutsche Wirtschafts Nachrichten (DWN) wrote.
In some European cities, general dissatisfaction with low agricultural prices has prompted outright "riots", the article said. For example, French farmers in the Breton city of Vannes erected burning barricades in the streets, demanding that the government act immediately to overcome the crisis.
Discontent has also started to grow in Germany, because German businessmen are suffering huge losses due to anti-Russian sanctions. According to the latest estimates, the country's agricultural sector is losing about 600 million euros per year.
On Monday, German Minister of Agriculture Christian Schmidt called for the resumption of cooperation with Russia. Given the difficult situation in the agricultural sector, the EU leaders must find a way to boost exports, Schmidt said.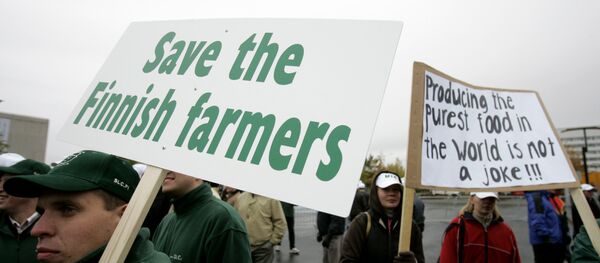 16 September 2015, 16:51 GMT
However, due to the controversy surrounding the issue of anti-Russian sanctions, Schmidt decided to act "in a roundabout way." He proposed leaving out the issue of withdrawing the sanctions and discussing partial concessions with Moscow in the agricultural sector within the framework of the World Trade Organization, thus gradually resuming economic relations "step by step", the newspaper wrote.
In addition, Schmidt also stressed the necessity to find "new markets". However, according to the newspaper, this proposal sounds quite unrealistic given the fact that the Russian market is a top priority for German agriculture.
According to DWN, if the EU leaders continue to avoid decisive action, the crisis in the agricultural sector may result in protests across Europe.