The program was started only six months, so the release of secret files will show the effectiveness of the EU operation.
Operation Sophia, stipulating inspection, seizure and diversion of suspicious ships in international waters, was launched in June 2015 in response to the vast migration crisis to Europe from the Middle East and Northern Africa. It encompasses Italian, French, German, British and Spanish warships, including Italy's Cavour C 550 aircraft carrier and France's Courbet F 712 stealth frigate.    
The report, dated back to January 29, 2016, was written by Rear Admiral Enrico Credendino, the commander of the Operation SOPHIA, for the EU's Military Committee and the EU's Political and Security Committee.
​The report is said to have refugee flow statistics and tell about details of past and future operations.
​According to WikiLeaks, the report also presses EU bodies to work on speeding up the process of forming a EU-friendly "reliable" government in Libya, which in turn would "invite" EU forces to not only operate within Libyan territorial waters but also allow EU military forces to operate onshore.
​​Last October the UN Security Council adopted a resolution approving an EU naval mission to intercept and seize migrant trafficker vessels in the Mediterranean Sea.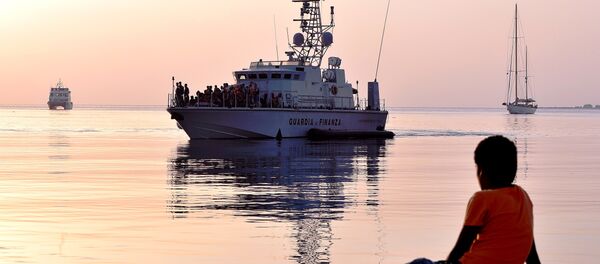 10 October 2015, 16:56 GMT
Resolution 2240 authorized several European warships to board, search and seize vessels suspected of trafficking migrants in international waters from Libya to Europe.
The European Union is struggling to manage a massive refugee crisis, with hundreds of thousands of people fleeing conflict-torn countries in the Middle East and North Africa for Europe.
According to the International Organization for Migration's (IOM), over a million migrants arrived in Europe via the Mediterranean in 2015, while over 3,700 died attempting to make it across the sea route that year.