ANKARA (Sputnik) — Turkey will continue attacks on Kurdish fighter posts in Syria in return to alleged attacks by the Syrian Kurds, Turkish President Recep Tayyip Erdogan said Wednesday.
"Let no one think we will step back. We will respond many times to every shot from that side," Erdogan said.
The remark follows Monday's ultimatum put forward by Turkish Prime Minister Ahmet Davutoglu against the self-defense forces of Syrian Kurds, demanding they abandon the Menagh Air Base (or Minnigh Airport) in northern Syria near the Turkish border or the facilities would be destroyed.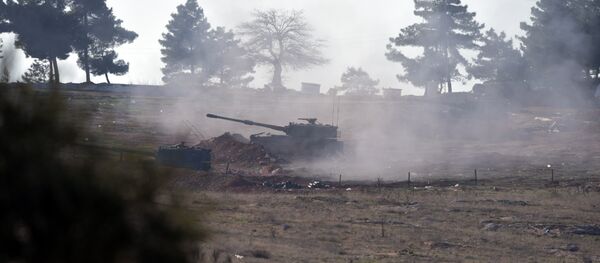 17 February 2016, 01:40 GMT
On February 13, Turkish forces began shelling positions held by the Kurdish People's Protection Units (YPG), a Kurdish group with links to the Syrian Kurdish Democratic Union Party (PYD), in Syria's Aleppo Province. Turkish forces bombed a village and the airport, which was recently seized by Kurdish forces.
Explaining the move, Davutoglu said Turkish forces' shelling was a retaliatory measure within rules of engagement.