CAIRO (Sputnik) — The Turkish army will not invade Syrian soil while Russia's aerial campaign against Daesh terrorists in the country is ongoing, a spokesman for the Syrian Democratic Forces alliance of militias said Wednesday.
"They [Turkish troops] have not approached the border and do not dare to do so, as they would become targets for the Russian air force and the regime's artillery should they enter Syrian territory," Talal Salu told RIA Novosti.
Salu added that a US-led coalition of over 60 states would also be against such an invasion of northern Syria.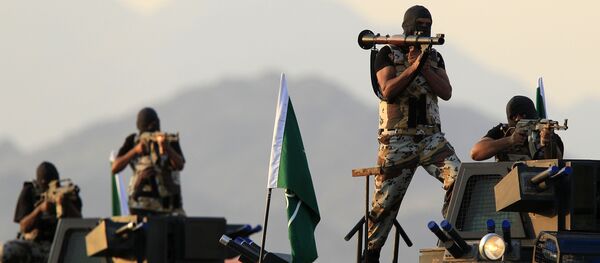 8 February 2016, 10:17 GMT
On Saturday, Prime Minister Ahmet Davutoglu said
Turkish forces had shelled
Kurdish People's Protection Units positions in northern Syria as a retaliatory measure within the rules of engagement. The attacks have been ongoing since Sunday.
Syria has been mired in civil war since 2011, with the country's government fighting multiple opposition factions and extremist groups. In September 30, 2015, Russia launched an air campaign against Daesh and the Nusra Front, which are outlawed as terrorist organizations, at the request of Syrian President Bashar Assad.