"It's very easy to knock over Humpty Dumpty and break him apart, but it's not easy to put it together again," Daniel McAdams, executive director of the Ron Paul Institute for Peace & Prosperity, tells Radio Sputnik's Loud & Clear.
"The Ukrainian parliament has been dysfunctional ever since the US-assisted overthrow of the legitimately elected government."
The current Ukrainian government has failed to enact promised reforms, the International Monetary Fund has provided billions of dollars to prop up the regime, and Prime Minister Arseniy Yatsenyuk narrowly survived a vote of no-confidence on Tuesday.
18 February 2016, 15:07 GMT
"It's an extraordinarily unpopular government that is incapable of governing. So what is happening now, I think, is that some of the rats are deserting ship, turning on each other…How could anyone look at Ukraine now..and say, 'Oh wow, things are so much better?'
"Nobody could say that."
None of this would have happened without a blatant coup d'état orchestrated by the United States.
"It was the most obvious coup in history," McAdams says. "Ukraine, for how bad off it is, it's lucky it didn't get Libya'd. Five years now from the liberation of Libya, it's in even much worse shape, as well."
Following Yanukovych's ousting, the US State Department hand-selected Arseniy Yatsenyuk to become the new prime minister.

18 February 2016, 18:03 GMT
"It was like [US Assistant Secretary of State for European and Eurasian Affairs Victoria] Nuland had the potential leaders of Ukraine in her hand like a pack of cards," he says. "They went through a few people and decided that 'Yats is our guy.'
"And obviously, if you look at this hapless character, who looks like he's constantly a deer in the headlights, they probably picked him because he's absolutely pliable. He absolutely has no backbone."
Whether Yatsenyuk's failure was Washington's ultimate goal remains a matter for debate.
"I'm starting to wonder if maybe the [US] goal is to just foment chaos, this kind of chaos theory to set the world ablaze and come out on top," McAdams says. "If that's not the case then the people running Washington's foreign policy are quite literally the stupidest people on Earth, and good God, why are they still in there running things?"
The destabilization of Ukraine is emblematic of NATO's increasing push eastward, and it's easy to imagine the United States' reaction if the tables were reversed.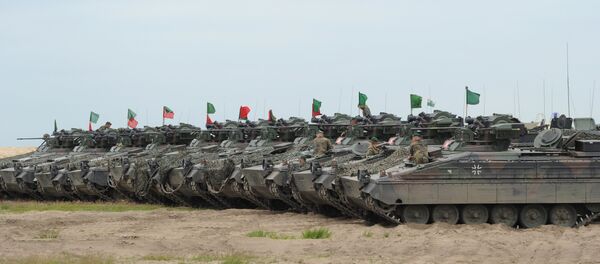 18 February 2016, 15:40 GMT
"Can you imagine if the Chinese and the Iranians had engineered a coup against the Mexican government and had overturned and put their own forces in power…What would the United States do?
"The country next door is obviously going to be concerned," McAdams adds. "It's hard to understand why this is even a question in Washington, that Russia would not be concerned about this [Ukraine] situation."
While the Minsk Agreement offers hope that the conflict will end, America's habit of "reinterpreting" peace deals threatens not only Ukraine, but also Syria, where world leaders recently agreed to a ceasefire.
"You get an agreement in place, and then you reinterpret it and accuse the other side of violating it," he says, "and that's the stock-and-trade for Washington these days."