ZELENODOLSK (Sputnik) — Russian Zeleny Dol has arrived at Syria's second largest port of Tartus on the Mediterranean coast:
"The Zeleny Dol arrived in Tartus yesterday as part of its mission. It will be relieved by the Serpukhov," Adm. Alexander Vitko said at a keel-laying ceremony for the Project-22160 Pavel Derzhavin patrol ship in Zelenodolsk.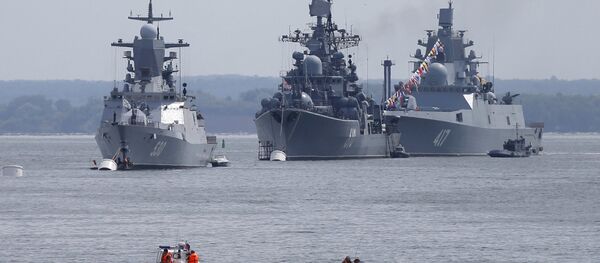 28 December 2015, 19:43 GMT
Both the Zeleny Dol and the Serpukhov are
Buyan-class corvettes
designed by the Zelenodolsk Design Bureau. The missile version of a Buyan-class corvette is typically armed with Kalibr (SS-N-27) anti-ship missiles, 100-mm and 30-mm guns, as well as Igla-1M air defense missiles.
Last Saturday, the Zeleny Dol left its home port in Crimea's Sevastopol to join Russia's permanent naval task force in the Mediterranean.