Turkish President Recep Tayyip Erdogan's son Bilal Erdogan came to Italy with a large amount of cash and number of bogyguards, according to a statement by Turkish businessman Murat Hakan Uzan, in a documents which were made available to RIA Novosti.
Bilal Erdogan became the target of Italian investigators, who are probing his trips to Italy for money laundering. Uzan is a businessman who was exiled from Turkey after Recep Tayyip Erdogan became prime minister.
"Bilal Erdogan arrived in Italy with a large group of armed bodyguards who, quite obviously, the competent authorities did not allow to enter the country. However, they were very quickly, within a few hours, given Turkish diplomatic passports, so that now Bilal Erdogan's bodyguards are considered part of the Turkish diplomatic corps in Italy," the testimony said.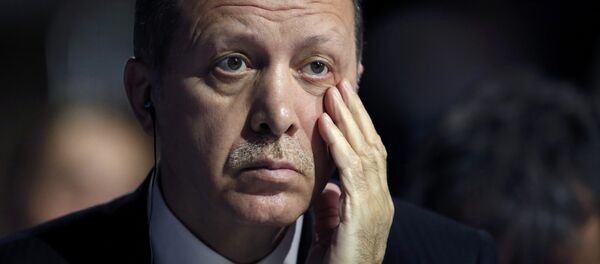 29 December 2015, 15:57 GMT
Bilal Erdogan's lawyer claimed that the trips are tied to his client's studies at Johns Hopkins University, which is located in Baltimore, Maryland.
The four-page document also details a December 2013 corruption scandal involving President Erdogan's inner circle, when the latter was Turkey's Prime Minister.
The document also contains transcripts of a telephone conversation between Bilal and Recep Tayyip Erdogan, in which they discuss how to "get rid of millions of euros in cash, kept at home."
Uzan said that the money laundering is part of a "project escape" for the Erdogans. Bilal Erdogan's lawyer said that his client plans to return to Turkey after finishing his PhD at Johns Hopkins.