Kristian Rouz — The Bank of Japan's (BoJ) sudden move to lower its base interest rates into negative territory, at 0.1% charged on commercial banks for piling liquidity reserves abstaining from lending, stirred shockwaves in most Asian markets, as investors saw aggressive BoJ stimulus measures as being aimed at boosting Japan's competitiveness in international trade.
Indeed, the yen, bolstered by the solid performance of most Japanese macro indicators, has been appreciating at the year's start, from 120.55 against the dollar on January 1, to 116.94 on January20. The BoJ's easing move, announced in late January, hardly helped to devalue the yen; on the contrary, Japan's currency hit its highest point against the dollar at 112.42 on February 11. Effective February 16, negative interest rates have largely failed to affect the yen's FX rate, with the currency now trading at 114.10 per dollar.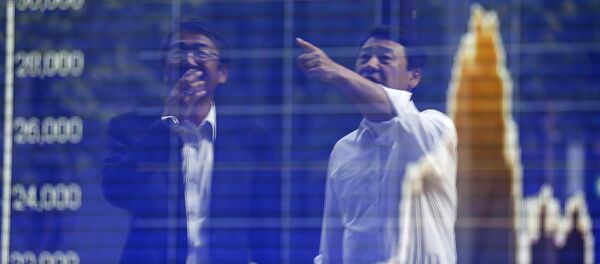 15 February 2016, 07:39 GMT
Japan's economy, which is heavily reliant on the export of manufactured goods, primarily, automobiles, electronics and other tech products, urgently needs a weaker yen to support its competitiveness against economies such as those of South Korea, Taiwan, Vietnam and China. However, as the yen appreciates in line with improving domestic economic conditions, Japan's zaibatsu might be facing declines in export revenues, marring the overall economic outlook.
In this context, BoJ governor Haruhiko Kuroda made several statements on Thursday, saying that the implementation of negative interest rates is not immediately aimed at weakening the yen, but rather at bolstering domestic lending, rendering yen-denominated liquidity more affordable thus providing further momentum to economic expansion and propelling inflation higher. Any possible devaluation of the yen affecting Japan's positions in international trade are seen as a side-effect by the BoJ, Kuroda reiterated, meaning the markets have gotten ahead of themselves, dubbing negative rates as 'failure' as the yen's FX rate remained unchanged.
"The central banks of big economies don't target currency rates in guiding policy," Kuroda noted.
Instead, the BoJ governor said, the immediate positive effects of negative interest rates appeared as lower bond yields, meaning domestic market volatility has started to subside as the amount of risk lowered, and the overall economy's investment appeal is rising. In turn, the improving investment environment provides a better outlook on the overall economic growth.
However, Kuroda's stance on negative rates hasn't met without a fair amount of controversy within the regulator itself. BoJ member Koji Ishida, who voted against the negative rates policy in late January, noted that the new stimulus measures would hardly help the domestic investment, suggesting focusing on labor market performance and ending disinflation within the framework of a more 'normal' monetary environment.
"Private-sector interest rates are already very low, so the policy won't necessarily lead to increases in capital expenditure," Ishida said. "What's important is to end deflation as soon as possible and normalize interest rates" in order to provide the broader economy with a more sustainable basis for further growth.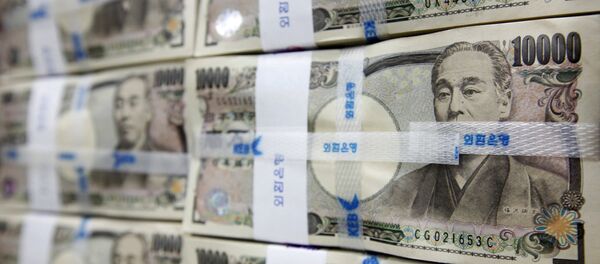 29 January 2016, 04:23 GMT
At this point, Japan is still on the verge of disinflation, with the BoJ 2% target out of reach due to the yen's strengthening and the decline in stocks in Tokyo amidst international stock market volatility.
That said, the yen's FX rate still remains the key factor allowing the BoJ to spur much-needed inflation in the Japanese economy. The policy move might eventually result in the yen's devaluation, meaning yet another stage in the international 'war of currencies', a struggle for competitiveness in international trade spurred by the US dollar's revaluation, triggered by Federal Reserve tightening measures.
Japan's largest brokerage, Nomura Holdings Inc., said the negative rates will result in the yen's devaluation by 10%, to 130 per dollar by late 2016, essentially providing a major boost to Japan's exports and economic growth. Investors are expected to dump Japanese assets in favor of overseas higher-yielding opportunities (i.e. US assets).
"There is nothing convincing enough yet to alter the outlook," Yunosuke Ikeda of  Tokyo-based Nomura Securities Co. said. "The most important check points for now are a set of US data in early March. If we can confirm recession risks are low, the 130-yen forecast can be maintained."
Further appreciation of the yen is unlikely, even though the overall economy is improving, as negative rates might be enough to at least contain the yen's appreciation. BoJ might, however, start selling the yen at auction should the currency rise above 105 per dollar. However, such a move would require coordination with the US, one of Japan's main trading partners.