WASHINGTON (Sputnik), Michael Hughes – Turkey is machinating a pretext to put boots on the ground in Syria by holding the Kurdish People's Protection Units (YPG) responsible for the deadly terrorist attack in Ankara, experts told Sputnik.
On the heels of a blast in Ankara that killed 28 and left 61 people wounded on Wednesday, Turkish authorities were quick to point the finger at the YPG, which is engaged in neighboring Syria's civil war and has been an effective fighting force against the Islamic State (IS) radicals.
"Turkey may be fabricating its own narratives about who is to blame for the bombings in Ankara to justify its long-held desire to begin a ground operation in Syria to crush the YPG," Moravian College Director of International Studies Christian Sinclair told Sputnik on Thursday.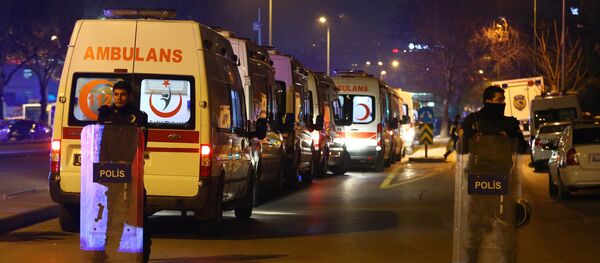 18 February 2016, 19:42 GMT
Sinclair pointed out that the YPG and its associated political organization, the Democratic Union Party (PYD), both vehemently denied any involvement in the Ankara bombing, which bears the hallmark of an IS attack more than anything.
Sinclair claimed Ankara is fooling no one by blaming the Kurds and pointed out that US State Department spokesperson John Kirby said Washington considers responsibility for Wednesday's attack to be "an open question."
"The Turkish government at the moment seems intent on further escalating its war on the Kurds," he added. "It is already engaged in full-scale military operations within its own borders against Kurds in Diyarbakir, Cizre, and elsewhere."

18 February 2016, 04:26 GMT
The Turks have also resumed cross-border raids in Iraqi Kurdistan and are shelling Kurdish positions in northwestern Syria, Sinclair observed.
"Basically it is a three-pronged attack aimed not only at wreaking havoc on Kurds and their regional aspirations for more autonomy, but also at creating the false impression on the world stage that Kurds are to blame for much of the region's woes and at branding all Kurds – civilians and militants alike – as terrorists," he claimed in the interview with Sputnik.
Sinclair warned that if the United States or the United Nations were to censure or sanction Turkey for its current actions, "as contemptible as they are," it could push Ankara to intensify its attacks on Kurdish populations in the region.
Webster Tarpley, a historian and author of "Obama: The Postmodern Coup," wrote on Tarpley.net that the incident appears to be a "false flag" that affords Turkey's Muslim Brotherhood leadership a pretext for "a large scale land invasion of northern Syria, supposedly to punish the YPG Kurds for this bombing."
The Muslim Brotherhood movement is an international religious and political association established in Egypt in 1928 and supported in a number of Arab countries. It has been outlawed and branded as a terrorist organization in Egypt by President Abdul Fattah Sisi.
"In reality, the Turkish forces will go into Syria in a desperate attempt to save the ISIS [Islamic State], [Jabhat al-] Nusra [Front], and other terrorists who now face military collapse at the hands of Syrian and Russian forces," Tarpley added.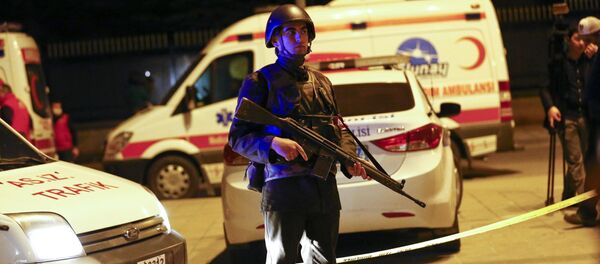 18 February 2016, 15:39 GMT
On Thursday, a member of the Turkish parliament from the pro-Kurdish Peoples' Democratic Party, Feleknas Uca, told Sputnik that some 120 Kurds have been burned alive in different buildings by Turkish military forces, as the government's offensive on mainly Kurdish southeastern provinces brings new victims.
Earlier, two more attacks killed seven Turkish military personnel and one police officer in the country's southeast.
In recent weeks, Turkish forces have repeatedly attacked positions of Kurdish People's Defense Units in northern Syria, claiming the Kurdish militia threatens Turkish security.