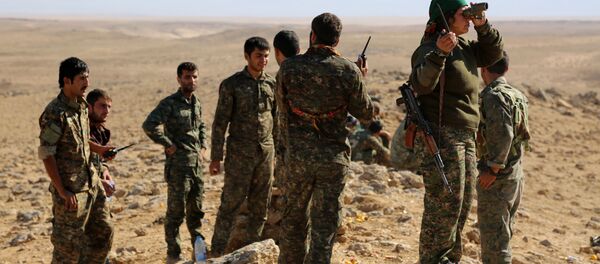 19 February 2016, 15:09 GMT
MOSCOW (Sputnik) – Around 2,000 Islamist fighters have crossed into the northwestern Syrian city of Azaz from Turkey to prevent its siege by Kurdish forces, the head of the Syrian Kurds' representative office in Moscow said Friday.
"In recent days, about 2,000 fighters belonging to Sultan Murad [Aleppo branch of the Syrian Turkmen Brigades], Ahrar ash-Sham and the Nusra Front, have crossed into Azaz from Turkey," Rodi Osman told RIA Novosti.
Turkish leaders have repeatedly stressed that they would not allow Kurdish forces capture Azaz to connect other northern Syrian areas under their control.

17 February 2016, 16:02 GMT
Osman, who asserted that the mass deployment was carried out to prevent the siege of Azaz, said it would be "naive" to assume that Turkish leadership is unaware of the move.
Turkish forces began shelling positions held in Aleppo by the Kurdish People's Protection Units (YPG), a military branch of the Syrian Kurdish Democratic Union Party (PYD), on February 13.
Ankara views YPG and PYD as offshoots of the separatist Kurdistan Workers' Party (PKK) and has recently began a push to force the United States recognize PYD a terrorist organization.