In his article on the topic Martin Berger, a Czech-based freelance journalist and analyst suggests that for Turkey, it is an "effort to regain the influence that the Ottoman Empire enjoyed in the Middle East."
"President Recep Tayyip Erdogan and his Justice and Development Party have been using every pretext to justify the future deployment of its troops in the Persian Gulf through the "sincere" desire to intensify "the fight against common threats", while making Turkey's military presence in the region official," he writes in his analytical piece on the New Eastern outlook website.
© AP Photo / Yasin Bulbul, Presidential Press Service
Turkey's President Recep Tayyip Erdogan, left, and Qatar's Emir Tamim bin Hamad Al Thani inspect a military honour guard during a ceremony in Doha, Qatar, Wednesday, Dec. 2, 2015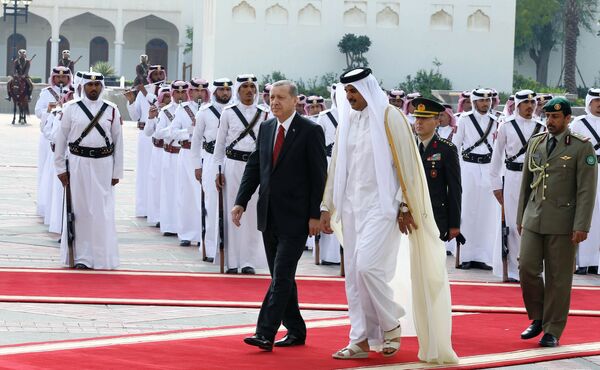 Turkey's President Recep Tayyip Erdogan, left, and Qatar's Emir Tamim bin Hamad Al Thani inspect a military honour guard during a ceremony in Doha, Qatar, Wednesday, Dec. 2, 2015
© AP Photo / Yasin Bulbul, Presidential Press Service
Ankara is planning to construct a multi-purpose military facility in Qatar, which will become home to some 3,000 soldiers.
"By taking this step Turkey expects to become a state that is directly influencing security in the Persian Gulf. In the future, this base will also provide Turkish armed forces with an outpost for operations in the Red Sea, North Africa, along with the access to the waters of the Pacific, which Turkey lost back in 1950," the author states.

1 February 2016, 09:39 GMT
This opinion echoes the one of Mehmet Akif Okur, associate professor at Gazi University, who is also convinced that "the Gulf is important in the global economic-political equation, and Turkey wants to have a say in the Gulf."
"A close military alliance with Qatar will provide the Turkish Defense Ministry with a tempting opportunity to access a lucrative market. It will also offer Turkey a way to strategically counter Iranian influence in the region and boost Turkey's role in global security and global energy security," he told Washington-based website Al Monitor.
Martin Berger however points at another strategic reason for the move.
Qatar and Turkey, he says, are the original creators of Daesh (ISIL/ISIS), and they have been investing heavily in the strengthening of this terrorist organization ever since.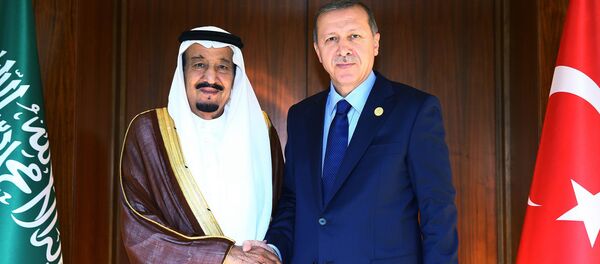 17 February 2016, 07:23 GMT
Qatar – by providing financial support to the jihadist group, while Turkey "has spent significant time on the recruitment and training of Daesh militants for them to then wreak havoc in Iraq and Syria".
"Turkey did its best to provide its terrorist creation with sophisticated smuggling networks that allowed ISIL (Daesh) to ship stolen oil and drugs across the globe. The Islamic State repaid their masters with a constant stream of Muslim refugees heading to Europe in a bid to save their lives. After all, Turkey is the first to benefit from the flow of migrants that are supposed to conquer a foothold in new lands, planting the seeds for future victories of a new Ottoman Empire," he says.
Both countries have been supporting other similar extremist and even terrorist groups used extensively in the fight against the Syrian government.
"Both states have also been deeply involved in the political struggle for influence in Egypt, by sponsoring the Muslim Brotherhood organization and former President Mohamed Morsi, along with promoting Wahhabi ideas not only in North Africa and the Middle East, but also in Central Asia," Berger further says.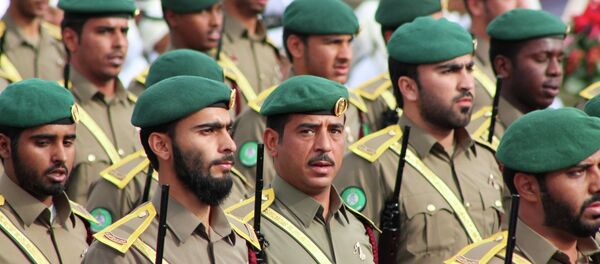 15 February 2016, 10:54 GMT
The closer cooperation between the two will enable better coordination of their above activities, with Turkish personal presence in the region.
What is Qatar Getting in Return?
According to Martin Berger, first of all, Qatar will "greatly enhance its military and political independence from its neighbor – Saudi Arabia, which has been repeatedly trying to distance itself from Qatari policies and even condemned Doha for the financial support it has been providing to radical extremists."
Moreover, the author suggests, "there's little doubt that it will untie Doha's hands in the business of sponsoring radical movements in the Islamic world, which have been labeled by numerous experts as extremist or even terrorist groups. Qatar will be able to train future members of such groups on its military base in Turkey, as well as using Turkish extremists on its territory for the same purposes, raising new radical hordes for military engagements in Syria or other countries."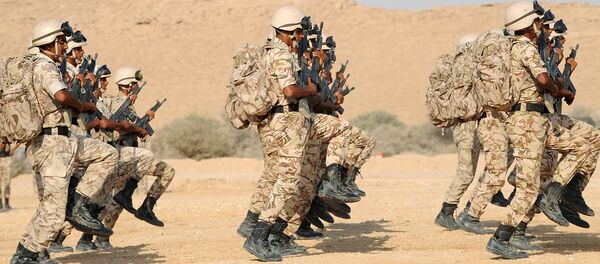 5 February 2016, 06:35 GMT
According to Mehmet Akif Okur, the agreement is of vital importance to Qatar, which is concerned by increased Iranian influence in the Gulf, the improvement of US-Iran relations and China's growing role in the Middle East.
"Qatar lacks serious military power and appears determined to make up for its deterrence weakness in the Gulf by entering into a military alliance with Turkey and diversifying its defensive capacities," he suggests.
"A strong military alliance with Turkey will enable Qatar to enhance its defense industry capacity, improve the training of its army and reduce its military dependence on the United States by diversifying its military partners to counter Iranian influence and perhaps even develop stronger cooperation with NATO via Turkey."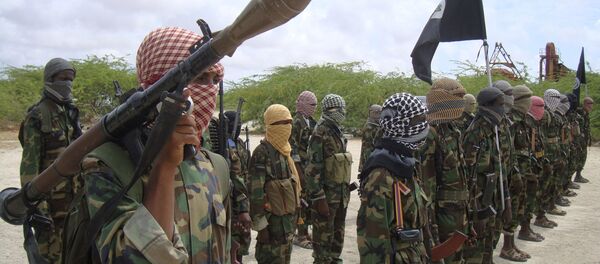 21 January 2016, 18:54 GMT
The Czech expert however predicts a strong counteraction from Qatar's neighbors, especially Saudi Arabia and the United Arab Emirates, who has not favored the agreement.
"The Arab world seems to be frankly worried by the strengthening of the military cooperation between Turkey and Qatar, since this basically means that radical movements like the Muslim Brotherhood will be getting even more active, equating to greater adversity for a number of regional players," he says.
"Under these circumstances, taking into account the well-known unpredictability of Erdogan's behavior, in the near future we may witness the worsening of Turkey's relations with a number of Arab states and the further destabilization of the region," the author finally states.