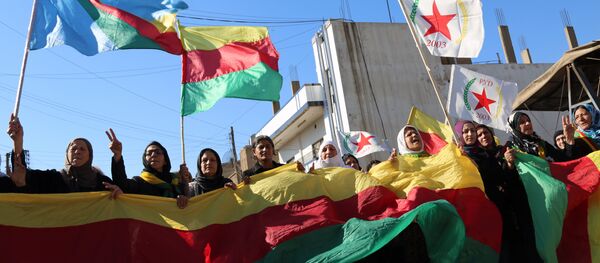 19 February 2016, 13:20 GMT
MOSCOW (Sputnik)
–
The United States is making contradictory statements on the Kurdish People's Protection Units (YPG), Turkish Foreign Minister Cavusoglu said Friday.
"My friend [US Secretary of State John] Kerry has said that the YPG cannot be trusted. So when you look at some statements coming from America, conflicting and confused statements are still coming," Cavusoglu said at a news conference in Georgia, as broadcast by the Turkish state broadcaster TRT Haber.
The top Turkish diplomat urged Washington to stop resorting to the YPG's help in the fight against terrorists in Syria.
The Turkish authorities blamed the YPG for Wednesday's blast in Ankara that killed 28 and left 61 people wounded.
Washington refused to follow Ankara's suit in blaming the Kurdish organization for the attack, stating that it has not determined who was responsible for the blast in the Turkish capital.
Over the past month, Turkish forces have repeatedly attacked YPG positions in northern Syria, arguing that the Kurdish militia is a terrorist group that threatens Turkish security.