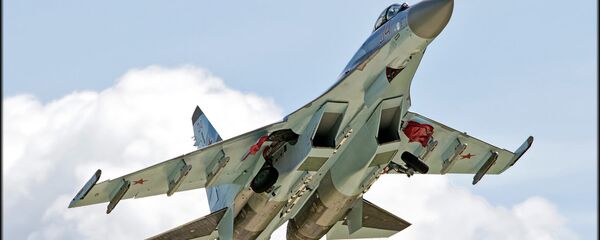 5 February 2016, 10:52 GMT
During testing the aircraft managed to achieve a 384 meters per second climbing rate.
According
to Russian newspaper Rossiyskaya Gazeta, such a climbing speed would've allowed the warplane to reach an altitude equal to the peak of Mount Everest, the highest mountain on Earth, in a mere 23 seconds.
The aircraft is currently undergoing a series of tests, some of them involving the use of live weapons. According to Russian Aerospace Forces Commander Col. Gen. Viktor Bondarev, the final aircraft of the test batch will be completed this year.
In addition to its already-impressive characteristics and stealth capability, the new warplane will also be outfitted with a host of cutting-edge weaponry, such as the advanced X-74M2 cruise missile, X-58USHK anti-radar missile and tactical X-35UE anti-ship missile. The aircraft is also equipped with advanced avionics and a cutting-edge phased array radar system.
The T-50 is a single-seat, twin-engine jet fighter, and the first operational aircraft in Russian service to use stealth technology. The warplane is due to enter service by the end of 2016.
Meanwhile, several foreign powers have already expressed an interest in the new warplane, and the serial manufacturing of an export version of PAK FA is scheduled to begin in 2020.