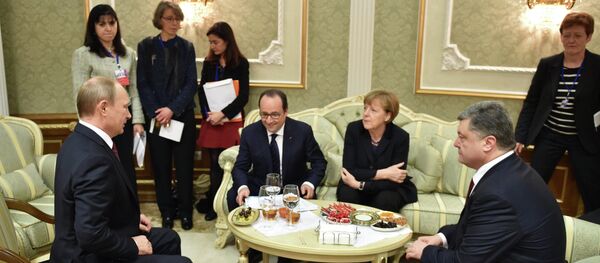 17 February 2016, 13:37 GMT
KIEV (Sputnik) — The head of the Foreign Affairs Committee of Ukraine's Verkhovna Rada proposed Sunday to hold another Normandy format talks in Donetsk.
Hanna Hopko also believes that US State Secretary John Kerry could be invited to take part in the negotiations.
"It becomes clear that the format and location for the next negotiations should be changed," she wrote in her blog.
The Normandy Quartet format, comprising Russia, Ukraine, Germany and France, was created in 2014 to secure a peaceful settlement to the conflict in eastern Ukraine that flared up in April 2014 after Kiev launched a military operation to suppress local pro-independence militias in the regions of Donetsk and Lugansk.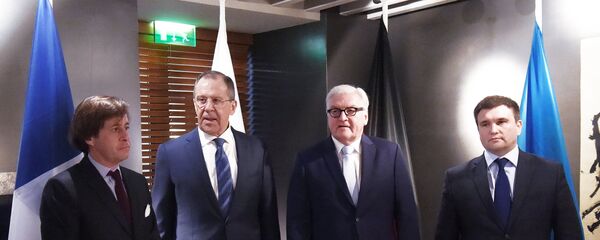 13 February 2016, 09:01 GMT
In February 2015, the Quartet leaders worked out a deal on Ukrainian reconciliation in the Belarusian capital of Minsk. Key points of the Minsk deal include a ceasefire, weapons withdrawal from the line of contact in eastern Ukraine, constitutional reforms, including a decentralization of power in the country, and the granting of special status to the Donbas region.
The four Normandy format countries' diplomats last met on the sidelines of the Munich Security Conference in Germany last Saturday. Next meeting, according to Ukrainian Foreign Minister Pavlo Klimkin, is slated for March 3.
Earlier, the Russia Foreign Ministry said Moscow sees no reason to expand the Normandy Quartet on Ukrainian reconciliation by adding the United States to the talks.