MOSCOW (Sputnik) — Militants from the al-Nusra Front are seeking to use the ceasefire due to be reached in conflict-torn Syria to strengthen its positions, Chair of the Russian Foreign Affairs Committee of the State Duma Alexei Pushkov said Monday.
"Ceasefire's hidden dangers: the al-Nusra Front, which has become a shelter for a part of the [so-called] moderate opposition, is looking forward to reaching a truce in order to strengthen its positions," Pushkov posted to Twitter.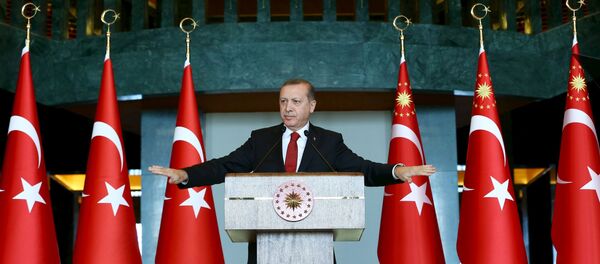 20 February 2016, 17:43 GMT
On Saturday, a source in the Syrian opposition delegation from the Moscow-Cairo group involved in the talks on Syria reconciliation said the agreement on the document of the cessation of hostilities in Syria had been reached between Russia and the United States in Geneva. The source added that the Islamic State and the al-Nusra Front, both extremist groups outlawed in Russia, were excluded from the ceasefire.
On Sunday, the Russian Foreign Ministry said Foreign Minister Sergei Lavrov and US State Secretary John Kerry in a telephone conversation had continued to discuss the modalities for the cessation of hostilities in Syria.
Syria has been in a state of civil war since 2011, with the country's government fighting multiple opposition factions and extremists. The meeting of the International Syria Support Group on February 12 resulted in a final communique calling for swift humanitarian access to all besieged areas in Syria, and set a one-week deadline for measures to be implemented toward the cessation of hostilities in the country.