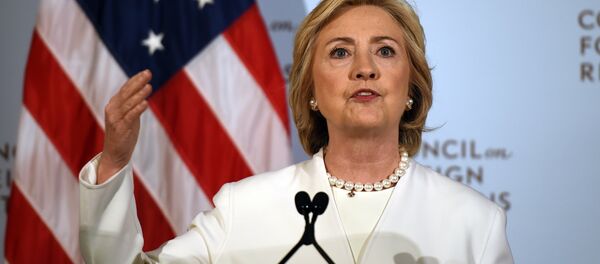 21 February 2016, 04:55 GMT
WASHINGTON (Sputnik) — An unusual poll mimicking a word association exercise asked voters to say the first thing that comes to mind with the mention of the top two Democratic candidates for the US presidency, the Gallup organization said in a survey released.
"Hillary Clinton and Bernie Sanders have multifaceted images among the American public," Gallup said on Tuesday in a release accompanying the poll. "But the most common responses Americans give when asked to say what comes to mind when they think of each are 'dishonest' and 'dislike her' for Clinton, and 'socialist' and 'old' for Sanders."
"On the positive side," Gallup reported, "a fair number of Americans view Clinton as capable and experienced, and Sanders as a fresh face and honest."
These top-of-mind impressions clearly show that negative perceptions about Clinton's character and trustworthiness continue to dog her, Gallup said.
In addition to the 21 percent of responses in the dishonest category, another 7 percent of Americans used words like "criminal," "crooked" and "thief" with respect to Clinton, according to the survey.
Sanders is a self-avowed democratic socialist and, accordingly, 12 percent of Americans think first of the word "socialist" when they hear his name. Six percent of top-of-mind reactions to Sanders center on his age, the survey said.