WASHINGTON (Sputnik) — Kerry also noted "the reason the IMF has not been able to make a disbursement" is a 10 point requirement to the Kiev government "to move forward on their reforms."
"[W]here we need to have a significant reform effort, passage of laws the Rada has to 'grab the bull by the horns here'," Kerry stated. "President Poroshenko has to push these reforms through and then there's a chance that this money will in fact reach the right people and do the right things."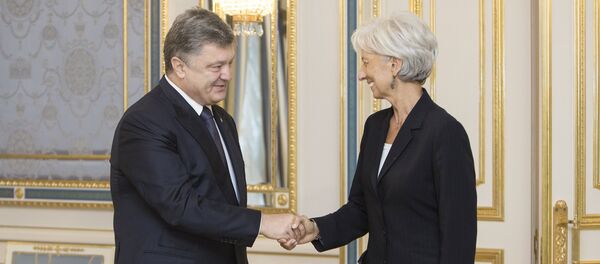 22 February 2016, 10:55 GMT
Last March, the IMF approved a four-year program of financial aid to Ukraine, which stipulates a $17.5 billion loan over the next four years.
The Ukrainian government in turn has to implement new economic policies for the IMF to disburse the funds.
Earlier in February, the US investment banking firm Goldman Sachs suggested Ukraine has likely satisfied the majority of the IMF requirements for a second review. Goldman Sachs added, however, that concerns about Ukraine's political stability were the main factor holding the review back.