On Tuesday evening, after easily winning the state's Republican caucus with 46% of the vote, Trump spoke at a rally at the South Point Hotel and Casino, and bragged — albeit bizarrely — about how diverse his base is.
"We won the Evangelicals," Trump said. "We won with young. We won with old. We won with highly educated. We won with poorly educated," he continued, "I love the poorly educated! They are the smartest people, the most loyal people."
His closest competitor in the Nevada race, Marco Rubio, came in 22 points behind the former reality television star, with 24%, while Ted Cruz came in third with 21%.
Based on an algorithm called the Flesch-Kincaid readability test "that crunches word choice and sentence structure and spits out grade-level rankings," the Boston Globe previously scored all candidates' announcement speeches, and found Trump's to be the lowest.
In comparison, Bernie Sanders speaks at a 10th grade level, while Cruz is at 8.9, and Rubio at 8.6. 
An entrance poll conducted by CNN found that Trump had 57% support among those who had only a high school education or less, a whopping 37 points higher in this demographic than any other candidate.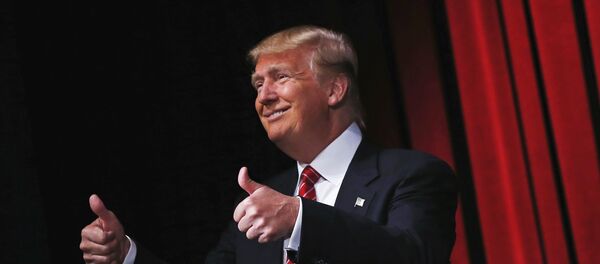 24 February 2016, 12:15 GMT
"What the hell is caucus?" Trump asked at the rally. "Nobody even knows what it is. Just vote."
These were not Trump's only rather unpresidential moments of late. When a protester was being escorted from a Las Vegas event Monday night, Trump declared that he wanted to punch him in the face.
"There's a guy, totally disruptive, throwing punches — we're not allowed to punch back anymore," Trump said, in another moment where the line between the film Idiocracy and reality became blurred. "I love the old days. You know what they used to do to guys like that when they were in a place like this? They'd be carried out in a stretcher."
"I'd like to punch him in the face, I'll tell ya," he added.