WASHINGTON (Sputnik) – Earlier this week, Moscow and Washington, both key mediators in the Syrian peace process, announced a plan for the cessation of hostilities in Syria set to come into effect on February 27 at midnight Damascus time.
"If implemented, and that's a significant if, the cessation could reduce the violence and get more food and aid to Syrians who are suffering…it could save lives, potentially it could also lead to negotiations on a political settlement to end the civil war so that everybody can focus their attention on destroying ISIL [Daesh]," Obama said on Thursday.
He stressed that the United States will do everything it can to maximize the chances of success in the cessation of hostilities in Syria, although the ceasefire will not apply to Islamic State (Daesh).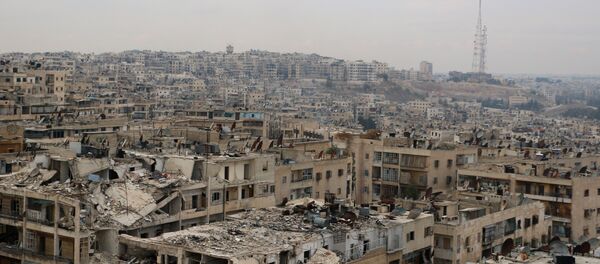 25 February 2016, 20:57 GMT
At the same time, Obama blamed Russia and its anti-Daesh efforts in Syria for humanitarian problems the country currently faces and criticized Moscow for supporting Syrian President Bashar Assad.
"Russia's intervention and airstrikes have reinforced the Assad regime and made the humanitarian catastrophe even worse," Obama said.
The United States and Russia have remained at odds over the future of the current Syrian government and President Assad. Washington insists that Assad leave office while Moscow is committed to strengthening Assad's role in fighting the Islamic State, also known as Daesh, as well as other terrorist groups such as al-Nusra Front.
Obama stressed on Thursday that because of the activities of Daesh and al-Nusra, fighting will continue in Syria even if the recently agreed ceasefire is implemented by all sides in the Syria peace negotiations.
Syria has been mired in civil war since 2011, with government forces loyal to Assad fighting against numerous opposition factions, including the Western-backed "moderate opposition," and extremist groups, such as Daesh, which is banned in a range of countries including Russia and the United States.

25 February 2016, 08:27 GMT
Russia has been assisting the Syrian forces in their anti-terror campaign, launching airstrikes against Daesh targets in Syria at the request of Assad and in accordance with international law since late September 2015. Russia has also been providing humanitarian assistance to the people of Syria, including through joint efforts with the Syrian government.
A US-led international coalition has been conducting a separate military campaign against Daesh in Syria since September 2014, without the approval of Damascus or the UN Security Council.