Head of Libya's unrecognized government faction Khalifa al-Ghweil further confirmed that French commandos carried out operations in Libya against Daesh-allied jihadist forces in Benghazi.
The new allegations could mean that France has been taking a side in the Libyan civil war, while the country is officially under a United Nations Security Council weapons embargo.
"There are French commando forces <…> that direct the ongoing fighting [in Benghazi] from an operations center based in Benina," al-Ghweil said in an official communique, according to FranceSoir.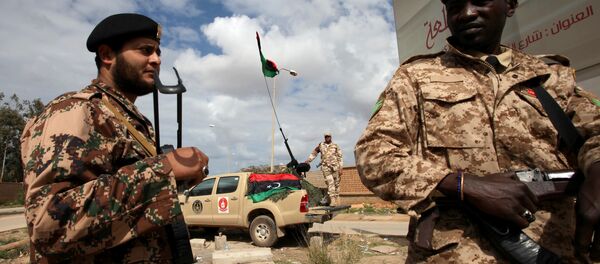 25 February 2016, 15:44 GMT
Benina is a suburb of Benghazi currently controlled by the internationally recognized government, which contains the city's airport. Libya is currently in a state of civil war between Daesh, an unrecognized Islamist government in control of the capital
Tripoli
and a recognized secular government now based primarily in Benghazi.
Libyan security officials from the Benghazi government apparently told EFE news agency that as many as 180 French commandos were deployed to Libya among other support.
The Benghazi government's spokesman El-Ouraybi dismissed the statement from Tripoli.
"This is not true. We deny these reports," El-Ouraybi told AFP, also telling Libyan news agency LANA that the government "didn't allow and won't allow any foreign forces to enter Libyan territories."
Adding to the suspicion that the French soldiers are in Libya to coordinate strikes against Daesh, US President Barack Obama made a statement on Thursday, crediting the United States, rather than France with the strikes.
The allegations of French participation in Libya's civil war were first made by France's Le Monde newspaper, which led the French government to launch a criminal probe against the publication for revealing "state secrets."